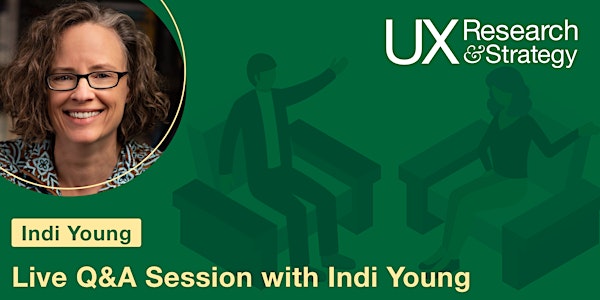 Live Q&A Session with Indi Young
Join UXRS for a Q&A session with Indi Young, a researcher who coaches, writes, and teaches about inclusive product strategy.
About this event
Join UXRS for a Q&A session with Indi Young, who teaches practitioners a life-changing approach of listening deeply, building cognitive empathy over time, and properly handling qualitative data analysis.
Indi covers a wide range of topics, including qualitative data synthesis, resisting assumptions to build knowledge, scalable empathy (the different types of empathy), techniques of listening deeply and how to design outside of the "average" "user".
Have a question you want Indi to answer live during the event? Submit your questions using the google form here: https://forms.gle/NMqNfsU7Bn78mxei6
All questions are welcome and can be submitted anonymously.
Networking topics
UXRS strives to create a community where people can make meaningful connections with others in the UX field. Come for the presentation, stay for the UX networking.
We'll end the night with our usual "happy hour" open forum of questions and answers.
Agenda
5:00 -5:10 p.m. (Central time, similar to Chicago and Dallas, USA) - Introduction and announcements for UX Research and Strategy
5:10-6:10p.m. (Central time) - Q&A Session
6:10 -8:00 p.m.(Central time) - Networking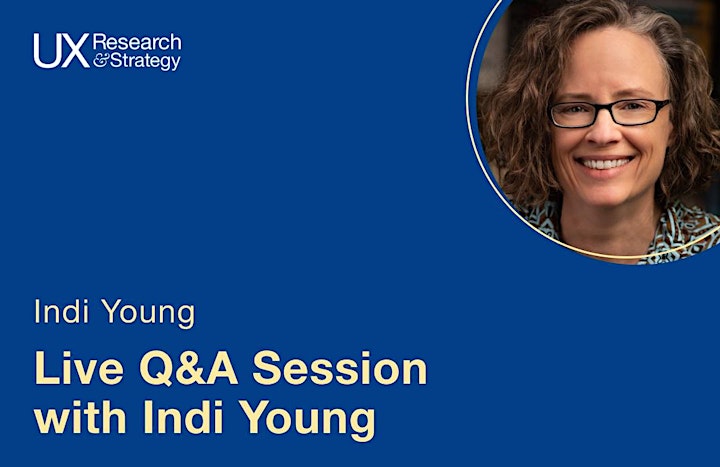 Speaker
Indi Young is a researcher who coaches, writes, and teaches about inclusive product strategy. Her work is rooted in the problem space where the focus is on people, not users. Indi pioneered opportunity maps, mental model diagrams, and thinking styles. Her way of approaching the problem allows teams to truly pay attention to people, without letting cognitive bias and assumptions creep in. Indi has written three books, Time to Listen, Practical Empathy and Mental Models. She is at work on another book in the series, Assumptions Aside, that will cover thinking styles. She builds knowledge and community via a series of live online advanced courses about the importance of pushing the boundaries of your perspective. She was one of the founders of Adaptive Path, the pioneering UX agency. You can follow her on Twitter @indiyoung and access many resources on her website indiyoung.com as well as at medium.com/inclusive-software.
This event is limited to the first 1,000 who enter the Zoom meeting.
We know this speaker is going to be awesome and high demand. So please consider whether you will actually be able to attend to make room for those who are eager to be there.
** Please Consider Donating **
A Donation Ticket to this webinar is the same as a regular admission ticket to the event. Plus, you are helping keep this event FREE for attendees around the world. Please consider getting a donation ticket as your admission ticket to help UX Research and Strategy provide events like this to the UX community. If you prefer to donate to us directly, and bypass Eventbrite fees, donate now through PayPal.
Host: UX Research and Strategy
UX Research and Strategy is a registered 501c3 group devoted to teaching and exploring topics related to User Experience Research and Strategy. Started by three very talented ladies, Jen Blatz, Lorie Whitaker, and Lauren Singer, who saw the need to address the gap in these topics in the local UX community. The hope for this group is to enrich and complement the UX Design community through knowledge sharing and partnership.
Whether you are a researcher, designer, product owner, strategist, content creator, project manager, developer, technologist, marketer, customer experience pro or any other discipline, please join us.
For more information:
Please note that by attending our events, you are granting us permission to potentially use a photograph including you on our social media channels and website. Don't worry, we will try our best to make you look good.
For online events, and for your privacy, if you do not want your name or image potentially appearing on a Zoom screen, please anonymize your name in Zoom and hide your video.
Please note, we are unable to refund donations.
A Zoom link to the webinar will be provided in your confirmation ticket. Scroll down through the email and you will see the zoom link to join.
UXRS code of conduct. By getting a free or donation ticket to our events, you agree to read and abide by the conditions of this code of conduct. Failing to do so will result in immediate removal from our events and any social media channels. We expect you to be respectful of everyone in our UXRS community.
Thank you for your support!