Join UXRS for a Q&A session with Debbie Levitt, a CX and UX strategist, researcher, and designer
About this event
Join UXRS for a Q&A session with Debbie Levitt, the CXO of DeltaCX, a full service CX & UX consultancy. Debbie covers topics ranging from teaching research & design to career and portfolio advice to helping leaders & managers increase UX maturity and transform teams & companies toward customer centricity.
Have a question you want Debbie to answer live during the event? Submit your questions using the google form here: https://forms.gle/4o7uHA4ibHQQpgAx9
People tend to ask questions about processes, approaches, techniques, job hunting, career advice, dealing with work conflicts, and leading, managing & building teams.
All questions are welcome and can be submitted anonymously.
Networking topics
UXRS strives to create a community where people can make meaningful connections with others in the UX field. Come for the presentation, stay for the UX networking.
Topic1: What is your UX research, strategy, or design super power?
Topic 2: What research method would you like to learn more about?
We'll end the night with our usual "happy hour" open forum of questions and answers.
Agenda
11:00 -11:10 a.m. (Central time, similar to Chicago and Dallas, USA) - Introduction and announcements for UX Research and Strategy
11:10-12:10p.m. (Central time) - Q&A Session
12:10 -1:00 p.m.(Central time) - Networking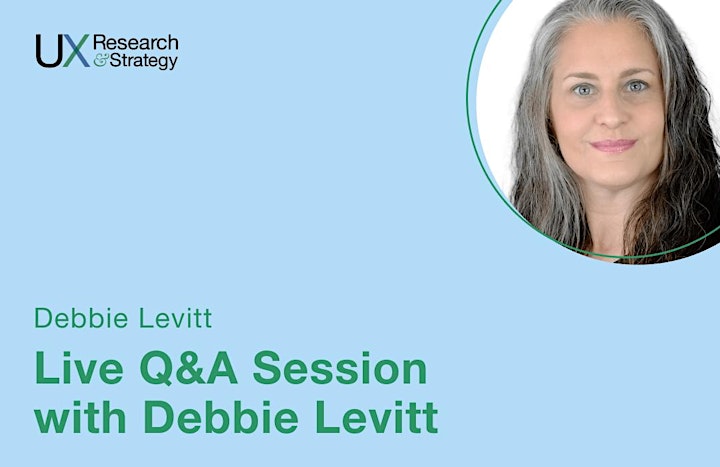 Speaker
Debbie Levitt, MBA is the CXO of Delta CX, has been a CX and UX strategist, designer, and trainer since the 1990s. She's a change agent focused on helping companies of all sizes transform towards customer-centricity while using principles of Agile and Lean.
Clients have given her the nickname, "Mary Poppins," because she flies in, improves everything she can, sings a few songs, and flies away to her next adventure.
Her "Delta CX" book and "Transforming Toward Customer-Centricity" training teach companies how to improve customer satisfaction, predict and mitigate business risk, and increase ROI by investing in great customer experiences. She has other training programs that teach non-CX roles about CX, why it's done by specialists, and how to integrate it into teams and processes.
Outside of CX work, and sometimes during CX work, Debbie enjoys singing symphonic prog goth metal, opera, and New Wave. You can also catch her on the Delta CX YouTube channel.
This event is limited to the first 1,000 who enter the Zoom meeting.
We know this speaker is going to be awesome and high demand. So please consider whether you will actually be able to attend to make room for those who are eager to be there.
** Please Consider Donating **
A Donation Ticket to this webinar is the same as a regular admission ticket to the event. Plus, you are helping keep this event FREE for attendees around the world. Please consider getting a donation ticket as your admission ticket to help UX Research and Strategy provide events like this to the UX community. If you prefer to donate to us directly, and bypass Eventbrite fees, donate now through PayPal.
Host: UX Research and Strategy
UX Research and Strategy is a registered 501c3 group devoted to teaching and exploring topics related to User Experience Research and Strategy. Started by three very talented ladies, Jen Blatz, Lorie Whitaker, and Lauren Singer, who saw the need to address the gap in these topics in the local UX community. The hope for this group is to enrich and complement the UX Design community through knowledge sharing and partnership.
Whether you are a researcher, designer, product owner, strategist, content creator, project manager, developer, technologist, marketer, customer experience pro or any other discipline, please join us.
For more information:
Please note that by attending our events, you are granting us permission to potentially use a photograph including you on our social media channels and website. Don't worry, we will try our best to make you look good.
For online events, and for your privacy, if you do not want your name or image potentially appearing on a Zoom screen, please anonymize your name in Zoom and hide your video.
Please note, we are unable to refund donations.
A Zoom link to the webinar will be provided in your confirmation ticket. Scroll down through the email and you will see the zoom link to join.
UXRS code of conduct. By getting a free or donation ticket to our events, you agree to read and abide by the conditions of this code of conduct. Failing to do so will result in immediate removal from our events and any social media channels. We expect you to be respectful of everyone in our UXRS community.
Thank you for your support!