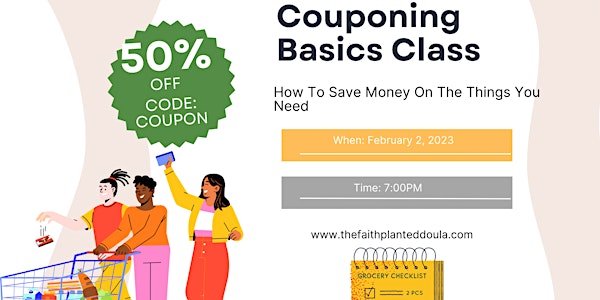 LIVE Couponing Class Q&A
Are you paying more at checkout buying groceries? Interested in learning how to potentially save thousands $$$ a year off your bill?
About this event
Couponing changed my life. As a young mother with another baby on the way, recently separated from the military, and a stay at home wife I had to learn quickly how to make one income work. Learning how to save hundreds of dollars a week on groceries for pennies on the dollar by what I use to simply toss in the trash as 'junk' opened my eyes to budgeting and saving money on a large part of our family expenses. From diapers to nail polish and everything in between I was able to stock my home with essentials and wants for a fraction of the costs.
After teaching several in-person classes I'm broadening my reach with LIVE virtual classes to share the knowledge I've acquired especially to mothers who may be transitioning to maternity leave or a stay at home mom. As a birth and postpartum doula I have seen the need and have educated clients on this technique to ease the financial burden that often arises when there is a reduction in the family income.
If you are ready to learn a skill that can help change you family dynamics, impact your community in the form of donating items, build an emergency supply, etc. JOIN me LIVE for a basic introduction in to the world of couponing.