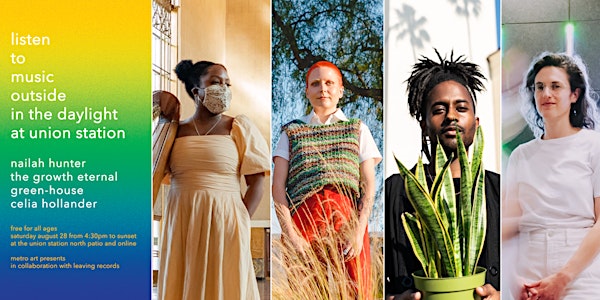 listen to music outside in the daylight at union station
Live concert in Union Station's North Patio featuring music inspired by nature + transportation in collaboration with LA's Leaving Records
When and where
Location
Union Station 800 North Alameda Street Los Angeles, CA 90012
About this event
THIS EVENT IS CURRENTLY AT CAPACITY. IT WILL ALSO BE STREAMED ONLINE AT YOUTUBE ON THE UNION STATION ACCOUNT and ON LEAVING RECORDS SOCIAL CHANNELS. WALK UPS ARE WELCOMED ON A FIRST COME, FIRST SERVED BASIS.
metro art x leaving records
saturday august 28 from 4:30pm - sunset
metro art presents a live environmental music concert inspired by nature and transportation in collaboration with leaving records
listen to music outside in the daylight at union station
nailah hunter
the growth eternal
green-house
celia hollander
free for all ages at the union station north patio and online
Capacity will be limited to allow for social distancing, so please be sure to RSVP via Eventbrite. Walk-ins will be welcomed on a first-come, first-served basis .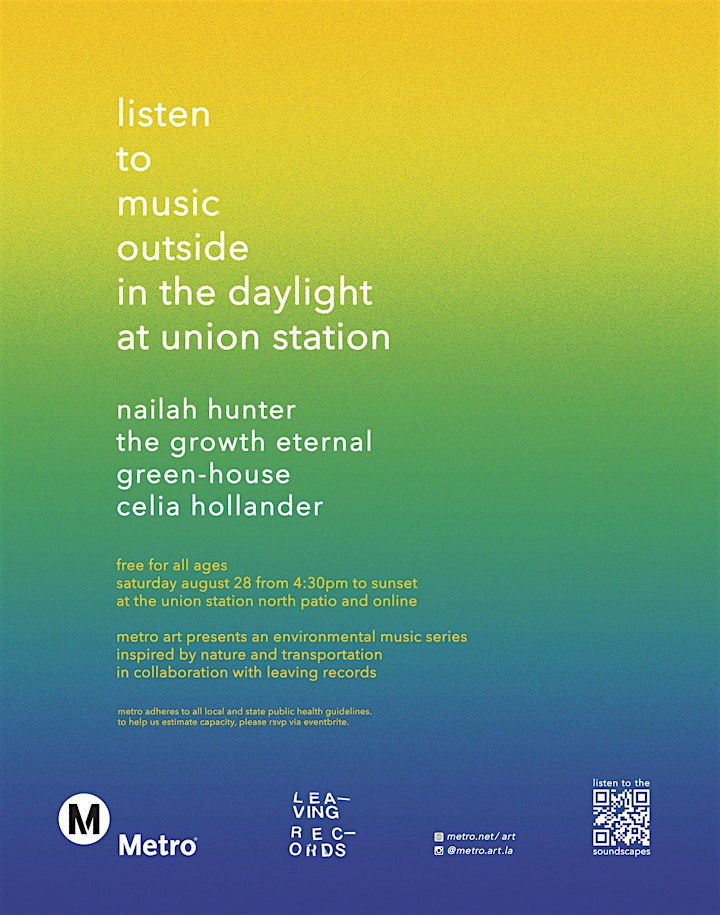 Metro adheres to all local, state and FTA public health guidelines. Masks will be required as mandated by County of Los Angeles Public Health guidelines.
The Los Angeles County Department of Public Health requires that all guests, regardless of vaccination status, wear masks in indoor public settings unless they are actively eating and drinking or are otherwise exempt from wearing a mask due to a disability, as defined by the Americans with Disabilities Act (42 U.S.C. 12101 et seq.).
Go Metro to the event! Take the B Line (Red), D Line (Purple), J Line (Silver) or L Line (Gold) directly to Union Station. Plan your trip on the Transit app.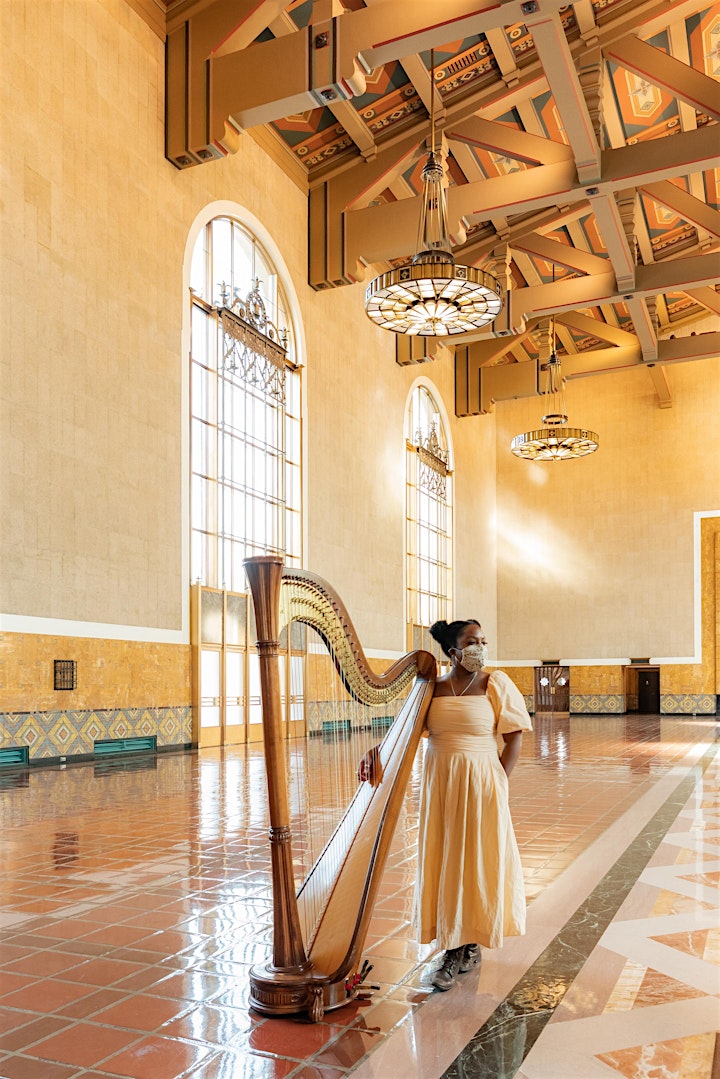 About An Environmental Music Series from Metro Art and Leaving Records:
In 2021, Metro Art Presents teamed up with Los Angeles-based Leaving Records to ask four musicians who draw inspiration from the landscape to create original music soundscapes evoking experiences of nature and transportation in Los Angeles, with Union Station at its center.
The soundscapes have been released sequentially in late February, June, and July on Metro Art's Soundcloud - with a fourth in late August. We'll close the series out with this live concert at Union Station featuring all four artists.
Nailah Hunter, Waiting in the Light (( LISTEN))
The Growth Eternal, Palmy, the sidewalk palm tree ((LISTEN))
Green-House, Flora Urbana ((LISTEN))
Celia Hollander, To All Trains ((AVAILABLE AUGUST 25 ))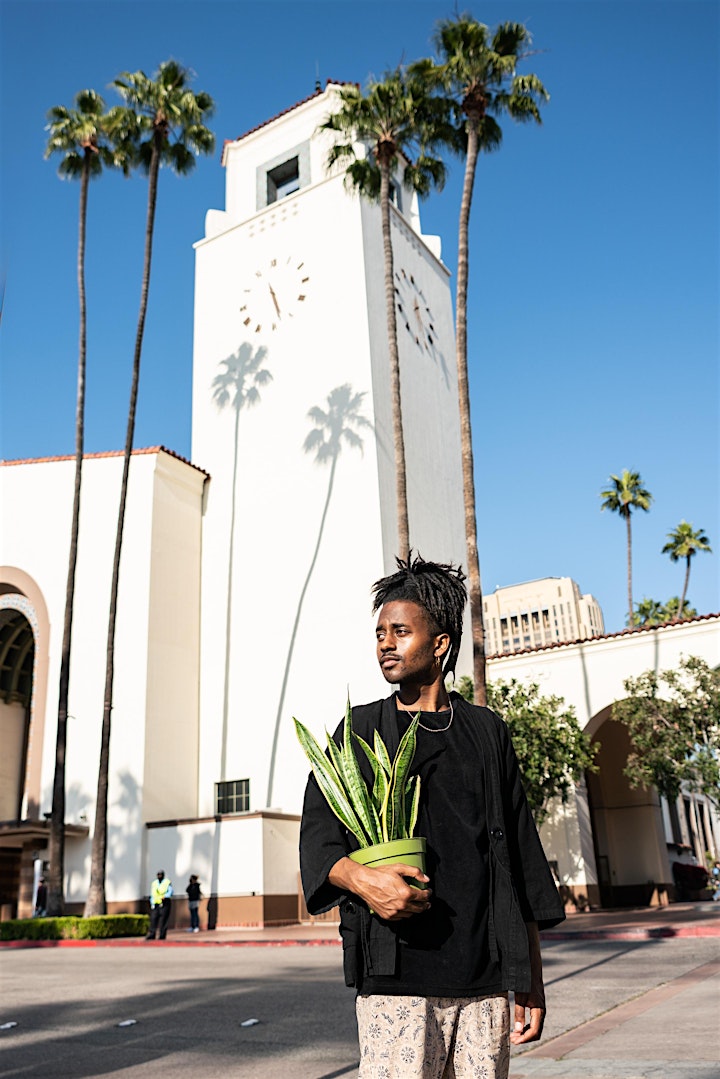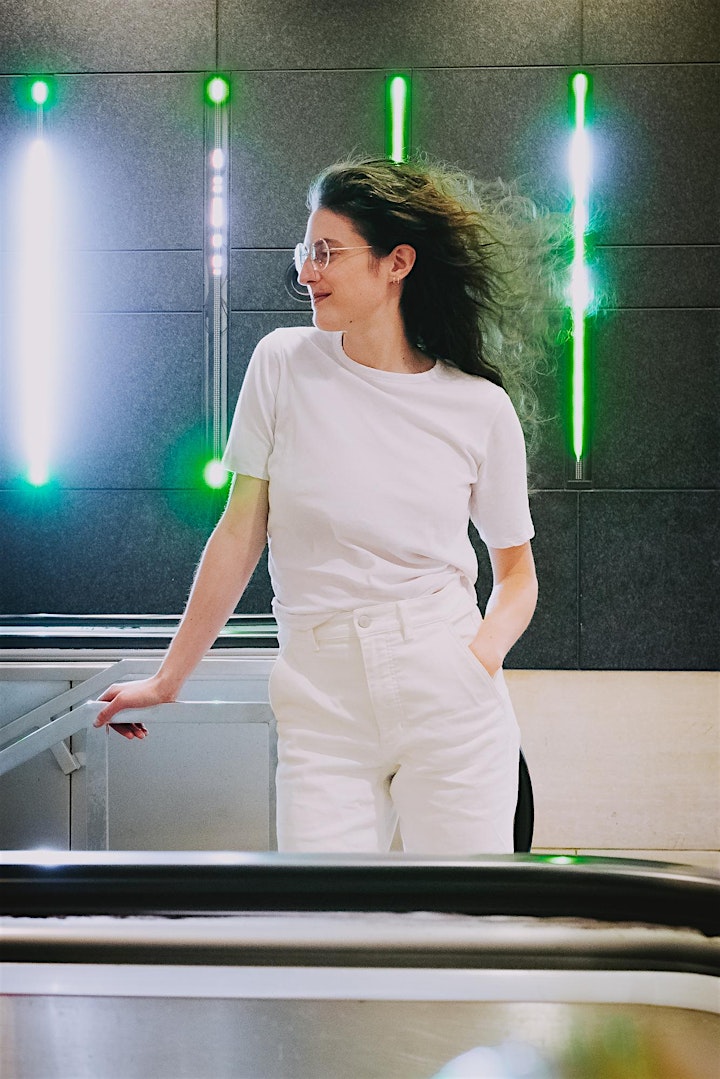 Nailah Hunter is a multi-instrumentalist and composer from Los Angeles. She combines harp, synth, found sounds, and voice to create reflective sonic landscapes that promote healing and self-awareness for herself and the listener. Her ambient music conjures unique sonic locations forged by imagination, drawing listeners into a tranquil world of rest, contemplation and color. Her recent releases include Bassin Bleu (Mexican Summer), Spells (Leaving Records), and Black Valhalla created to support the Loveland Foundation.
The Growth Eternal (TGE) was started in 2018 as a project stemming from artist Byron Crenshaw's direct experience and interest in bringing together disparate parts of the self. Crenshaw is a Tulsa-born, Dallas-taught, Black-living, spiritual being who currently lives in Koreatown. He started playing music professionally at 15 years old when he fell in love with jazz after hearing John Coltrane and Duke Ellington's rendition of "In a Sentimental Mood." After attending the University of North Texas and graduating in 2019 with a Jazz Bass Degree, he decided to move to California to pursue a more honest and creative path for himself in music. Eternally he grows, learning as he goes.
Green-House is the project of Los Angeles based artist Olive Ardizoni. Approaching their music with an intentional naivety, they craft songs that find freedom through simplicity. As a non-binary artist, they hope to create a space with fewer barriers as both a performer and a listener. Green-House's latest full-length album Music For Living Spaces was released in May of this year. The record is an extension of their desire to encourage people to connect with their existing surroundings.
Celia Hollander is a Los Angeles based composer and artist working with audio, scores, performance, installation and text. Her work critically engages ways that audio and the act of listening can shape temporal perception, generate narratives, question cultural infrastructures and cultivate social connection. Her work has been performed or installed at institutions and venues including MOCA, The Getty, Skirball Cultural Art Center, Various Small Fires, Human Resources and Zebulon. Her discography includes releases on Leaving Records, Recital and Noumenal Loom and she is a resident dj on Dublab Radio. She holds an MFA from California Institute of the Arts where she studied music composition.