Refund policy
Contact the organizer to request a refund.
Eventbrite's fee is nonrefundable.
Missed the 2-day virtual conference for all about learning disabilities, ADHD, and related disorders? Good news! You can get recordings!
About this event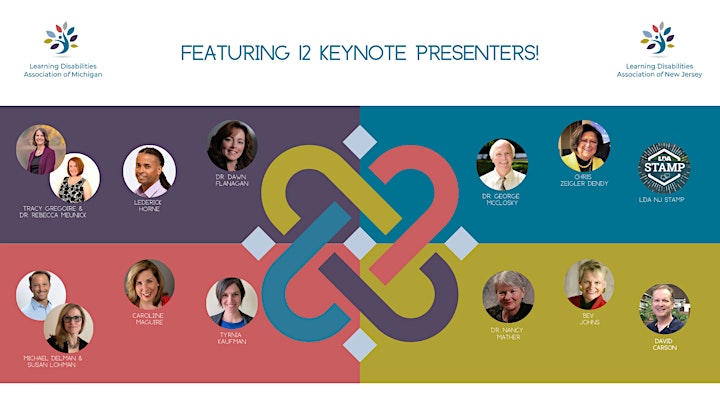 LDA Michigan and LDA New Jersey partnered together to present a two-day virtual conference for parents, administrators, all educators, advocates, professionals, students (14+, college, and graduate), and others. It's a conference for all focused on learning disabilities, ADHD, and related disorders!
Did you miss the LDA of Michigan & LDANJ Virtual Conference on Oct. 15 & 16? 
Good news! Most of the workshops were recorded! 
Sign up by Nov. 15 and you can view thru Nov. 30!
In honor of October as Learning Disabilities Awareness Month, LDANJ and LDA of Michigan have extended the deadline for you to register and get the 2-days of recordings. 
Members, Parents & Students $25, Non-members $50, Membership & Conference $75 (Membership alone is $55).
Schedules for both days are listed below. You can also download a copy of each day's schedule and/or a full listing of workshops and their descriptions at:
www.LDANJ.org - Events or
www.LDAofMichigan@gmail.com. 
 Questions? Contact LDAMINJConference@gmail.com
Special thanks for giving their time and expertise to this virtual conference:
The Richard West Assistive Technology Advocacy Center (ATAC)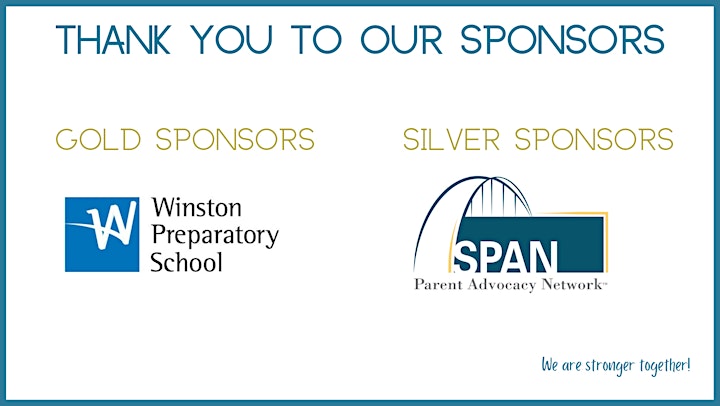 IMPORTANT CONFERENCE INFORMATION - PLEASE READ
There will not be a Vendor Expo.
Directions will be sent to you via email after you register.
The Certificate of Attendance, which you can get upon completing the Feedback Sheet at the end of Day 1 and/or Day 2, will have Oct. 15 and 16 dates. Suggestion: Complete the Day 1 or Day 2 Feedback Sheet after you have watched all of the workshops that you are interested in on a particular day or you can do the full feedback form at one time.
There are a only a few workshops that were not recorded. LDAMI and LDANJ are not responsible for any cancellations, speaker replacements, or unrecorded workshops.
LDANJ & LDAMI do not endorse any organization, product, person, business or information provided at the conference. Our goal is to provide you with helpful information about Learning Disabilities.
FRIDAY, OCTOBER 15
8:45-9:00 Welcome & Conference Instructions
9:00-10:00 Keynotes
Disability, Race and Identity - Lederick Horne (NOT RECORDED)
Linking Assessment to Interventions-Educational Strategies-Resources - Dr. Dawn Flanagan
Lead Poisoning 101: Preventing Exposures in Home & Community - Tracy Gregoire & Dr. Rebecca Meuninck
10:15-11:00 Session A
Identifying SLDs Using AADA, RTI, and PSW; Where Do We Go from Here? - Dr. Steven Korner
Dyslexia in the Public School Setting: Advocacy Tips & Resources for Parents - Deborah Lynam
Online Tools You Should Be Using-No Matter What You Teach - Kara Guiff
Role of the Vocational Rehabilitation Counselor - Dawn Monaco
Vocabulary Word Selection: Tools and Strategies for Classroom Teachers - Dr. Susan Chambre
Large Print & Audiobooks from NJSL Talking Book & Braille Center - Jennifer Apgar
Help! My (Middle/High) Child Is Not Reading! What Do I Do? - Russell Van Brocklen & Lois Letchford NOT RECORDED
11:15-12:00 Session B
Mythologies of Dyslexia & the 'Soup Pot' of Variables - Dr. Richard Selznick
Reading Motivation and the Adolescent Learner - Monica Crumback
Techniques to Increase Learning, Manage Attention & Understand Executive Functions - Andrea Elrom
Writing Strength-Based IEPs - Hillary Freeman
Cutting the Apron Strings: How to Shift from Enabling to Empowering - Melissa Knight
NJCAN360-The New Jersey Career Assistance Navigator; Not Only for NJ! - Joanne Hamza
Intro to the Wide Range Assessment of Memory and Learning, 3rd Edition - Selina Oliver NOT RECORDED
12:15-1:15 Keynotes
Practices Promoting Executive Functioning In & Out of the Classroom - Michael Delman & Susan Lohman
Emotions and Learning: How to Support Kids with Both - Trynia Kaufman
Social Skills After Covid - Caroline Maguire
1:30-2:15 Session C
Effective Strategies to Support Students with Language-Based Learning Disabilities - Dr. Daniel Franklin
AT DIY (Do It Yourself): Getting Started with Assistive Technology - Adam Krass
Preparing Neurodiverse Students for the Transition to College - Sharona Sommer & Dr. Michele Ramsay
Parents at the Center: How Parent Coaching Boosts Child Therapy Success - Cindy Goldrich
All Things Considered…From the Lens of a School Psychologist - Krista Siefert
Resilience Can Be Taught: 4 Strategies to Build Resilience in Every Student - Christian Moore
Using Data from the WIAT-4 for Eligibility and Programming-Part 1 - Selina Oliver NOT RECORDED
2:30-3:15 Session D
The Ultimate Selfies to Take to College - Dr. Mary Hebert
Learning to Navigate and Advocate for Self-Directed Services - Alison Goodrich & Jeanette LeBron
A Frickin' Elephant-Developing Language Comprehension - Lavinia Mancuso
Preparing for Your IEP Meeting - Jeannine Brinkley
Dyslexia and Dysgraphia Assistive Technology Toolkit and Resources - Alexandra Mendez
The Story Behind Reversed: A Memoir - Lois Letchford
Using Data from the WIAT-4 for Eligibility and Programming-Part 2 - Selina Oliver NOT RECORDED
3:15 Certificate of Attendance Day 1-up to 5 hours PDUs (Professional Development Units -NJ Provider Id #568) will be automatically emailed to you immediately after you complete the Feedback Form Note: You can complete the feedback sheet at the end of Day 2 for both days.
SATURDAY, OCTOBER 16
8:45-9:00 Welcome & Conference Instructions
9:00-10:00 Keynotes
Teaching Practices to Promote Executive Functioning In & Out of the Classroom - Dr. George McCloskey
Launching into Young Adulthood...Ready or Not! - Chris A. Zeigler Dendy
Student Perspective-Succeeding with Language-Based Learning Disabilities - STAMP NJ
10:15-11:00 Session A
Dyslexia and Good Evidence-Based Methods to Use for Remediation - Patti Kravitz (replaced Dr. Deborah Levy)
Everything You Need to Know About Navigating Disability Supports in College - Jennifer Sullivan
Why Won't Anyone Play with Me-The Often Unspoken Side of LD & ADHD - Dr. Richard Selznick (may have sent in recording and/or handouts)
Gap Year Option and Benefits - Holly Bull
Pandemic to Plandemic - Lynda Shanahan
Thriving with Dyslexia and ADHD-Part 1 - Olive Hickmott
11:15-12:00 Session B
Teacher Knowledge and the Keys to Successful Reading Instruction/ - Cindy Hadicke
IEP Writing as a Subversive Activity - Dr. Kathleen Rotter -CANCELLED
Work Readiness: Preparing Students for the World of Work - John Tomasetti
The Emotional Health of Children with Dyslexia - Matthew Pagirsky & Katie Bernstein
Applying to College with LDs: A Top 10 List - Sherri Maxman
Thriving with Dyslexia and ADHD-Part 2 - Olive Hickmott
12:15-1:15 Keynotes
Assessment of Dyslexia: Constructs and Challenges - Dr. Nancy Mather
Practical Strategies for Reaching Children and Young Adults with Anxiety - Bev Johns
Survival Guide for College-Bound LD Students - David Carson
1:30-2:15 Session C
Understanding Dyslexia: What Parents Need to Know - Dr. Nancy Mather
3 Keys to Being College Ready - Eric Endlich & Lisa Andrews
Assistive Technology for LD Students - Heather Tellier
Neuropsychological Evaluations and Learning Disabilities-Part 1 - Dr. Cristina Sperrazza
Helping Students Build Resilience Through Social-Emotional Learning - Jennifer Scully
Teaching Basic Math Following the Strong Learning easy "LEARN" Method - Dr. Linda Silbert
2:15-2:30 Break
2:30-3:15 Session D
The Role of a Trauma-Informed Specialist - April Brown
Support Provided by Faculty to Postsecondary Students with Disabilities - Toby Tomlinson Baker
Word Problem Solving: Implications from a Meta-Analysis - Dr. Brad Witzel & Jonte Myers
Supporting a Student with a Learning Disability-Part 2 - Dr. Cristina Sperrazza
Pencils Down! Navigating Transition Times with Complex Kids - ImpactParents
Teaching Basic Phonics Using the Strong Learning easy "LEARN" Method - Dr. Linda Silbert
3:15 Certificate of Attendance Day 2-up to 5 hours PDUs (Professional Development Units -NJ Provider Id #568) will be automatically emailed to you immediately after you complete the Feedback Form