LinkedIn Build Attraction Training (Class 2 of 5) - Trustpoint's Classroom

Thursday, April 11, 2019 from 1:00 PM to 3:30 PM (CDT)
Event Details
Teaches networking on LinkedIn® -

"Setting the Mouse Trap"


Explore the suggestions / tools LinkedIn® offers.  Sharpen up on how these suggestive tools can offer even better suggestions for you.  Building your Network.  Don't just accept an invite!    Business Etiquette.  How do you know if you are repelling viewers?  Making impactful first impressions on LinkedIn® with minimal effort.... The crafting of great recommendations!

These trainers are not your average social media speakers proclaiming to be experts, they are certified by Integrated Alliances in LinkedIn® and accredited by LinkedIn® as being in the Top 1% Viewed in 2012.
Preferred Prerequisite: Class #1 LinkedIn Essentials; Min:  50 Connections
Takeaways:

Business Etiquette:   Never Do's and Always Do's

The pros and cons of Endorsements and Recommendations

How to get the best recommendations in the most timely manner

# of connections vs. size of your network. vs how to leverage it strategically

How to save time and still make the best first impressions

The start to the "9 Highways to a Target"  (To Be Continued in Class #3)
Workbook / Handouts:

Class #2's PowerPoint Handout

LinkedIn Roadmap – Guide to LinkedIn's menus and organization; navigational path to where features/functions are in LinkedIn; and helps you keep track of the proper ordering of how to work efficiently and effectively in each class

LinkedIn Strategy and Action Planner – As we proceed thru various areas in LinkedIn and demonstrate how a naïve beginner naturally uses a LinkedIn feature, we then follow immediately with how a savvy LinkedIn user seizes every opportunity to stand out and reap more benefits.  This Planner helps you to firm up your best strategy for using LinkedIn's features and functionality to achieve your objectives and also keeps track of the tactics to use to build out your strategy into actionable next steps

Progress Tracking Log – you will learn how to track and measure your progress as you work on your LinkedIn Profile in the first class and the learning's in the next LinkedIn Training classes in this series.  AS you learn to strategically, rather than organically, grow your  network and engineer your searches you will see dramatic improvements in your results

Strategic Network Planner – guideline to avoid the pitfalls beginners and even long time LinkedIn Members fall into without realizing it. This tool will help prevent from falling in that unavoidable trap

Strategic Recommendations Planner – Guideline on how to get the best recommendations in a timely manner
This is LinkedIn training class #2 in a 5-part series.   Est Duration: 2 Hrs and 15 min.  Register to attend more training at eventbrite: www.LinkForSuccess.eventbrite.com .
The Visuals Workshop is for primarily graphics such as headshots & videos are not included in this service and is suggested as an additional purchase.
Sales will close 4-12 hours prior to the webinar. Sales for classrooms will close at midnight the night before in order to make the appropriate number of handouts for class. No Refunds.  If you miss class your funds will roll forward to a future class.  If you want to take the series but have/will miss one of the classes in the series, please contact Lucinda. (e.g. If you miss a classroom training you may take the next webinar when available to get back in the series.)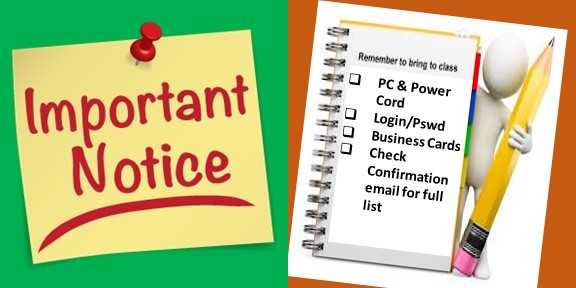 SAVE THE FOLLOWING EMAIL to your Safe List &/o Address book in your email system and any email filtering app, so you will receive details about the class.  You will receive a confirmation email just seconds after registering, plus you will receive a reminder 48 hrs before class.  
 For more details contact:   LucindaRuch@LinkForSuccess.com             or 972-370-2386
 Tags:  LinkedIn Training Dallas;  LinkedIn Training DFW;  LinkedIn Sales Training Dallas;  LinkedIn Job Seeker Training Dallas;  LinkedIn Training Addison
When & Where

Bent Tree Building
16775 Addison Road, Suite 500
Addison, TX 75001


Thursday, April 11, 2019 from 1:00 PM to 3:30 PM (CDT)
Add to my calendar
Organizer
On LinkedIn & unsure of how to really make it work to grow your business?
Paying too much for Open Rates? You can achieve 40-60% at ZERO cost!
Latest Results Show How to Increase Your Open Rates by 2-3X's
Open rates for regular email are 19.85%.  
Open rates for LinkedIn can be as high as 40-60%, with your LinkedIn maximized & optimized!!
This series of classes isn't just for sales.   Everyone is selling every day, whether it be your reputation, career advancement, business or goods/services.
Most want to jump to Class #3 and skip Classes 1 & 2 until they understand what it takes to make the 3rd class really sizzle!!  Many don't realize the  missed opportunities.  (e.g. Everyone gets 100 rows in their search results, but just imagine influencing this to be better than the norm, better than the average, better than your competition.  That means I'll see you in Class #1 & 2 so you will be ready for Class#3!)
--------------------------------------------------------------------------------------------------------------------------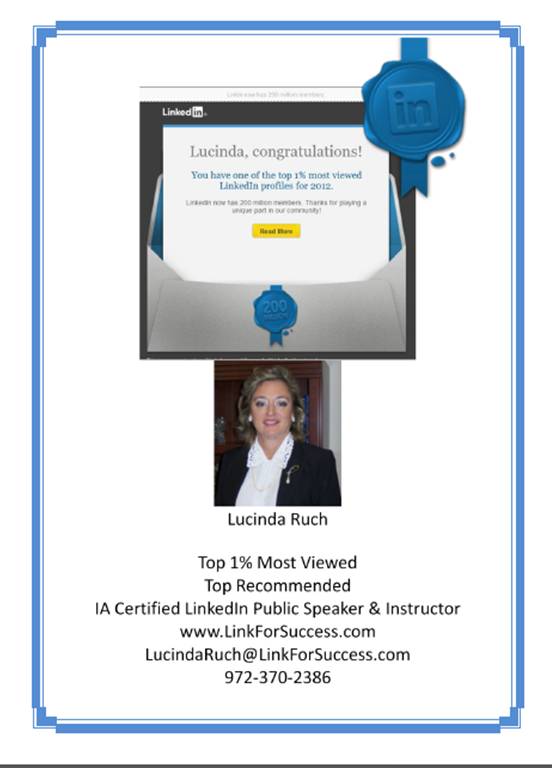 LinkedIn Consulting, Training & Public Speaking.  Founding Board Member of Social Media Breakfast (SMB) Dallas.  It's now the 2nd largest Social Media Group in Texas.  Communications/PR (LinkedIn) for Success North Dallas (SND) and Americas Future Series (AFS).