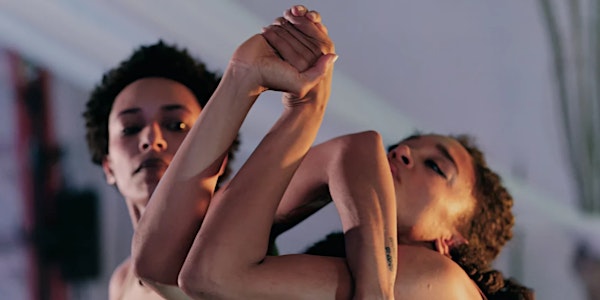 Linear/Function:Borderless
 As part of BSNM's annual MIA exhibition, join us for a special encore live dance and mixed media performance.
When and where
Location
Buffalo Soldiers National Museum 3816 Caroline Street Houston, TX 77004
About this event
Please join us for a special encore live dance and mixed media performance Linear/Function:Borderless by the locally and internationally renowned duo Kayla Collymore and Donna Crump. The performance will be followed by an interview with the dancers and Dr. Rachel Winer, and a Q and A session with the audience.
This performance, which begins at 7pm in the Gallery, is part of a continuing initiative by the BSNM to promote dialogue and connection, fueled by the power of art, to elevate, delight, and enrich our community.
Moderated by Dr. Rachel Winer, a psychologist, a teacher, and a writer. She has a community-based practice, where she uses film, museum artifacts, art, dance, and music in her work. This is her 4th collaboration with the Buffalo Soldiers National Museum, and she also has taught at The Jung Center and Rice University. Dr. Winer is the behavioral health consultant for the Houston Contemporary Dance Company, and she is on the advisory board of The Council on Recovery.
When not working, she loves swimming, being an aunt, and helping to ensure that every voice is heard as a voter registration volunteer.
KAYLA COLLYMORE, a New Jersey native, graduated (Summa Cum Laude) from Mason Gross School of the Arts at Rutgers University with a BFA in Dance. Kayla has performed with dance companies around the world including METdance Company (Texas, USA), Hou Ying Dance Theater (Beijing, China) and Brian Brooks Moving Company (New York, USA). Her professional experience ranges into screen dance, artist residencies, and leading master classes. She is an alumna of The School at Jacob's Pillow and was voted 2017's "Top 25 to Watch'' by Dance Magazine. Kayla has toured internationally with Matthew Bourne's productions of "Swan Lake'' and "Nutcracker!". This summer she made her principal debut in his production of "The Car Man" at the Royal Albert Hall. She was also recently titled June's "Dancer of the Month'' in Dancing Times Magazine. When she isn't on tour she is based in Houston, Texas as a freelance performer, dance educator, yoga instructor, movement designer and film director.
DONNA CRUMP is an award-winning choreographer, actress, and native New Orleanian. She holds a BFA in Dance from Tulane University and has also studied and created work in New York, South Africa, and in Brazil with the country's premier dance company Grupo Corpo. She is a two- time recipient of the Tribute to the Classical Arts Awards for Best Choreography and Outstanding New Work. In 2019, Crump starred in the film "America'' by Garrett Bradley which premiered at the Sundance Film Festival, Contemporary Arts Museum Houston (CAMH), The New Orleans Museum of Art, and the Museum of Modern Art in New York. Most recently Donna appears on the front cover of Southwest Contemporary Magazine- Inhale/Exhale Volume 3. She is currently an artistic director, movement architect, and performing artist based in "Cozmic Universe".
About Our Work
We created LINEAR/FUNCTION with the idea of making our concept tangible through a full sensory experience that is available to everyone regardless of age, race, gender, and cultural beliefs. Our immersive activities prompt problem solving and internal reflection with a touch of playfulness. Between the games, rituals, photo installation, projected screen dances and music we have strategically included elements that stimulate all five senses for a richer and more visceral impact.
LINEAR / FUNCTION speaks on the de-evolution of a people. Cleaning the slate of the societal constructs of race and gender norms in order to remove the controls that have been used to bring value to people since...well the construct of time. The piece moves through a transitory rebuilding where we embody a yin-yang state in our choreography and marry the multifaceted qualities that complement and support one another. We want to pursue the idea that regardless of gender we can all possess nurturing, intuitive, empathetic as well as courageous and assertive qualities. We believe that this is how we truly rebuild as a more grounded and resilient society.
Dance at its roots is about connection and communication, our greatest goal is to engage with our audiences. We have both worked internationally while cultivating our individual movement styles and captivating storytelling techniques. Our dynamic choreography ranges from high intensity partnering to fluid and fiery solos while maintaining family friendly appropriateness. When we create and present work, we hope the audience takes away a sense of balance with an urge to dig deeper into their own lived experiences. We use a social and emotional approach to our classes and presentations. We hope to share the healing power of movement and its universal language of connectivity. We want our performances and installations to invoke questions, conversations, and hopefully some answers. Our work starts with a feeling, ends with an action, and lives in the soul.