Description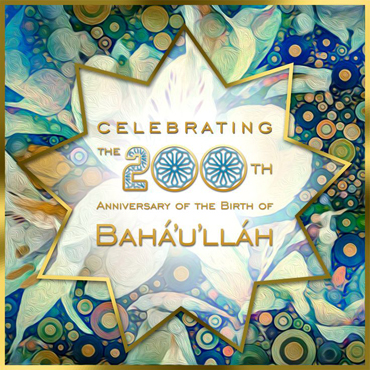 The Bahá'ís of Placer County are happy to join millions around the world to honor the 200th anniversary of the Birth of Bahá'u'lláh, the Founder of the Bahá'í Faith 1817-2017.
You are cordially invited to join us in celebrating Bahá'u'lláh's life and His world-embracing message of the oneness of God and oneness of humanity, and His remedies for the ills of humanity today.
Our celebration will include:
Prayers and music
Short history of Bahá'u'lláh's life
Description of His principles for the world
Refreshments, information table and conversation
If you would like to join us, please register here! Seating is limited to 120 people.
Hosted by the Bahá'í communities in Placer County -- your neighbors from Auburn, Granite Bay, Lincoln, Loomis, Rocklin and Roseville!
"The people's of the world, of whatever race or religion, derive their inspiration from one heavenly Source, and are the subjects of one God"... "Ye are the fruits of one tree, and the leaves of one branch. Deal ye one with another with the utmost love and harmony, with friendliness and fellowship...."
~ Baha'u'llah
Website: https://placercounty.local.bahai.us/
Facebook: www.facebook.com/BahaisofPlacerCounty
Worldwide: www.bahai.org

What is the Baha'i Faith?

The Baha'i Faith, the world's newest independent global belief system, teaches the oneness of God, the unity of humanity and the essential harmony of religion.

Baha'is believe in peace, justice, love, altruism and unity. The Baha'i teachings promote the agreement of science and religion, the equality of the sexes and the elimination of all prejudice and racism.

Just about anywhere you go on the planet, you'll find Baha'is—the Baha'i Faith is the world's second-most widespread religion after Christianity, spanning the globe and working to unite it.
Baha'is have no clergy or churches, gathering together in democratically-led communities and welcoming everyone.

The millions of Baha'is in the world come from every ethnicity, nationality, tribe, age, racial group, religious background and economic and social class. Gentle, peaceful, warm and welcoming, diverse Baha'i communities exist just about everywhere. Baha'is accept the validity of each of the founders and prophets of the major world religions, and believe in progressive revelation, the unique Baha'i principle that views every great Faith as a link in a single spiritual system progressively revealed by God to humanity.

From: http://bahaiteachings.org/bahai-faith
Photo: Baha'is at a Baha'i World Center gathering
Photo credit: http://bahaiteachings.org/bahai-faith