Light of Unity Festival: Harmony of Science and Religion

Saturday, September 23, 2017 from 2:00 PM to 4:00 PM (CDT)
Event Details
Harmony of Science and Religion
Join George Hatcher at Illinois Institute of Technology in Hermann Hall Ballroom as he talks about his experience of incorporating religion and spirituality into his intense life with science and technology.  How do these topics intertwine and coexist? How can STEM students and professionals keep their belief system in tact while in the lab?  Come learn about the importance of combining these two bodies of knowledge and how it can help advance society in a comprehensive way.
"...religion without science soon degenerates into superstition and fanaticism, while science without religion becomes the tool of crude materialism..."  --The Universal House of Justice
About George Hatcher
George W. Hatcher is a former NASA engineer who worked for 12 years at the Kennedy Space Center in Cape Canaveral, Florida. As a guidance, navigation, and flight controls engineer he helped launch space shuttles from 2004 to 2011. After the shuttles retired George consulted on avionics for the Orion spacecraft as well as flight computers for rockets including Falcon 9, Pegasus, and Antares. He also lent expertise to next-generation commercial space activities and advanced technology demonstrations, like small-scale orbital-class launch vehicles, nanosats, and drill-mounted fiber optic sensors for asteroid prospecting. George has bachelor's and master's degrees in aerospace engineering from the University of Tennessee. For five years, he split time between NASA and the University of Central Florida working toward a PhD in planetary science and conducting experiments in planetary formation, before being called back to avionics engineering full time. While working on his PhD, George spent seven months at KSC's Swamp Works helping to develop a simulated asteroid regolith from a mixture of processed minerals available on Earth. In June 2017 he resigned from NASA to pursue his PhD full time.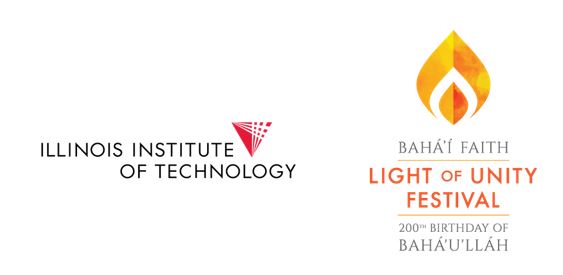 When & Where

Illinois Institute of Technology, Hermann Hall Ballroom
3241 South Federal Street
Chicago, IL 60616


Saturday, September 23, 2017 from 2:00 PM to 4:00 PM (CDT)
Add to my calendar
Organizer
Light of Unity Festival
(Download a printable version of the entire 9-week calendar here: http://bit.ly/2xN9rJq)
Light of Unity Festival is a nine-week series of events celebrating the 200th anniversary of the Birth of Baha'u'llah, Founder of the Baha'i Faith. From September 10 - November 12, 2017, the Baha'i House of Worship is collaborating with like-minded individuals and organizations to host these events and share some of the unifying principles of the Baha'i Faith: Race Unity, Gender Equality, Harmony of Science & Religion, and Oneness of Humankind.
This Holy Day will be celebrated by six million Baha'is and friends worldwide. Join us on this momentous occasion!
So powerful is the light of unity that it can illuminate the whole earth. --Baha'u'llah
For more information contact the Baha'i House of Worship at 847.853.2300