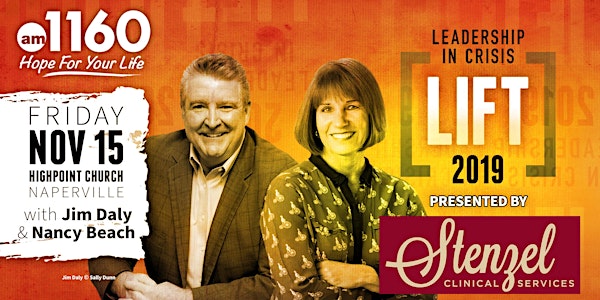 LIFT 2019: Leadership in Crisis
LIFT 2019: Leadership in Crisis will provide church leaders in Chicagoland with the tools and understandingto become better leaders.
When and where
Location
Highpoint Church 1805 High Point Drive Naperville, IL 60563 United States
About this event
Over the last year, the American church has been forced to wrestle with a number of crises. There may never have been a time in the modern history of the church when leadership has been more greatly tested and more greatly needed.
This year, at LIFT 2019, our vision is to provide pastors and church leaders from around Chicagoland with the tools and understanding that are required to become better leaders in times of crisis – personal, institutional, and local. Attendees will hear from speakers Jim Daly, Nancy Beach and others who will describe how they've walked through crises, relying on the leading of the Lord, to minister to others and to find the strength to overcome.
Jim Daly's upbringing in a dysfunctional family environment of addiction and abandonment could very easily have left him so deeply wounded that he would have been unable to recover. But the Lord began to heal Jim during his high school years, bringing people into his life to minister to him and encourage him. As an adult, Jim's journey brought him to Focus on the Family, where he ascended to the top leadership position of the organization, which has presented new leadership challenges. Jim will share the lessons he's learned from the crises that he's faced in his life and in his ministry, and he will encourage us with tools and tactics for leading through our own circumstances.
For over two decades, Nancy Beach served in several different leadership roles at Willow Creek Community Church and with the Willow Creek Association. Her ministry took her around the world, to 26 countries and 6 continents. In 2018 Nancy joined her voice with the voices of eight other women who revealed sexual harassment or abuse from their senior pastor. She is now a leading voice in the conversation about transparency, accountability, and power abuse among church leaders. Nancy firmly believes that men and women leaders can serve together in healthy, respectful ways. She will draw on her experience to name what is broken in so many of our ministries and to call us to create God-honoring church cultures where all of us can thrive.