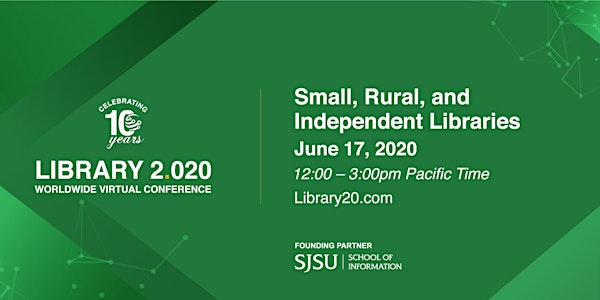 Library 2.020: Small, Rural, and Independent Libraries
Description
We're excited to announce our second Library 2.020 mini-conference: "Small, Rural, and Independent Libraries," which will be held online (and for free) on Wednesday, June 17th, from 12:00 - 3:00 pm US-Pacific Daylight Time (click for your own time zone).
This mini-conference will focus on innovation and innovative thinking in rural, independent, tribal, and other small libraries--as well as the many unique challenges that they face. A diverse array of keynote panelists and curated presenters will cover topics that will likely include:

Innovations to provide Internet access and training to rural patrons;
New ways that small libraries can offer services that the big urban libraries offer;
Taking community partnerships to the next level;
How workers from small and rural libraries can easily connect with each other to get ideas and keep innovating;
Novel ways to fund special programs;
Unique "Internet of Things" offers that are tailored to specific communities;
Safety, security, and ways to deal with emergencies when the sheriff's department is far away.
This event is being organized in partnership with Jim Lynch from TechSoup for Libraries, Kate Laughlin from the Association for Rural & Small Libraries, and The School of Information at San José State University.

Everyone is invited to participate in our Library 2.0 conference events, designed to foster collaboration and knowledge sharing among information professionals worldwide. Each three-hour event consists of a keynote panel, 10-15 crowd-sourced thirty-minute presentations, and a closing 30-minute keynote. Register (free) as a member of the Library 2.0 network to be kept informed of future events. Recordings from previous years are available as well as a Library 2.0 YouTube channel.

The School of Information at San José State University is the founding conference sponsor.