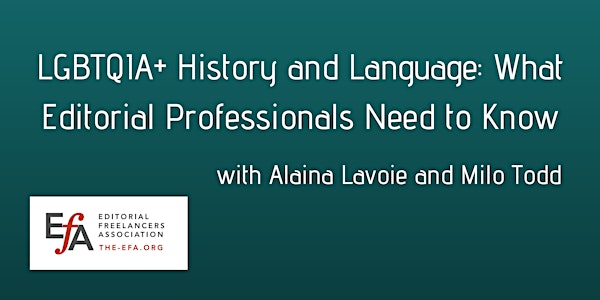 LGBTQIA+ History and Language: What Editorial Professionals Need to Know
In this webinar, Alaina Lavoie and Milo Todd will introduce attendees to LGBTQIA+ history and language considerations for editors.
About this event
Join Milo Todd, Alaina Lavoie, and freelancers from the Boston area for a webinar on LGBTQIA+ history and language for editorial professionals.
Editorial freelancers from all backgrounds have the opportunity to advocate for more inclusive language and shape content that better represents the diversity of our communities. To do so, we must recognize and challenge our own biases and be open to continuous learning.
As editors and language experts, we have the responsibility to advocate for accurate, respectful, and appropriate words and language. Millions of Americans are LGBTQIA+, and like any community, they have their own language to describe themselves and their experiences. Allies to this community should not only know this language but also understand the ways language may be used derogatorily.
For instance, do you know the importance of using someone's pronouns and sharing your own? Do you know the difference between transgender, intersex, gender non-conforming, nonbinary, gender identity, and gender expression—as well as the history and cultural context behind these terms? Are you aware of the rich, nuanced history of the LGBTQIA+ community in the US? While most of us have been exposed to conspicuous negative stereotypes used in pop culture and on political platforms, are you also aware of more subtle negative stereotypes and misrepresentation? This talk will cover many of these topics.
In recent years, our culture has made progress toward recognition and inclusion of the LGBTQIA+ community through language and representation. However, misinformation continues to spread because of a lack of education and harmful and inaccurate representations in pop culture, media sources, and publishing. Thus, further stigmatization of LGBTQIA+ individuals continues. As well-informed editors, we can play an active role in advocating for language and content that shapes our cultural narrative so everyone can live in an understanding world that embraces diversity of all kinds.
In this session, Milo Todd and Alaina Lavoie will present an overview of LGBTQIA+ history in the US, delving into the work that still needs to be done, use of pronouns and other important practices all editorial professionals should know, and examples of representation in literature and pop culture. Then, they will dig into harmful tropes and pitfalls editors should watch out for, considerations for YA and children's literature, and other practical language-based considerations.
Participants do not need any prior knowledge of these topics, only an open mind and interest to learn. We look forward to hosting you for an engaging, thought-provoking evening!
NOTE: This webinar will not be recorded. Please register only if you plan to attend. To receive resources shared by our speakers and learn about future EFA Boston events, join our mailing list here.
Alaina Lavoie is the communications manager of We Need Diverse Books and a book reviewer for Booklist. She also teaches courses in the department of publishing and writing at Emerson College. Her work has been published in the New York Times, Teen Vogue, Boston Globe Magazine, Refinery29, Glamour, The Oprah Magazine, Cosmopolitan, Healthline, and more. She can be found on Instagram and Twitter @alainaskeys and lives with her wife and two literary cats just outside Boston. She's almost always covered in glitter.
Milo Todd's writing focuses on trans and queer history, with additional works on the trans experience and the trans body. His fiction has appeared in Foglifter, Home is Where You Queer Your Heart (Foglifter Press), and Emerge: The 2019 Lambda Fellows Anthology (Lambda Literary Press). His other works have appeared on Writer Unboxed, Dead Darlings, GrubWrites, and Everyday Feminism, among others. He was selected as a 2019 Lambda Literary Fellow in Fiction for his novel SNUFF and received a fellowship to attend the Lambda Literary Writers Retreat for Emerging LGBTQ Voices. He is an alum of GrubStreet's Novel Incubator Program, where he received a Pechet Fellowship for his novel THE FALCON OF DOVES. He has been on the selection committee for the Novel Incubator Program and the Bisexual Book Awards, as well as a guest editor in fiction for Foglifter. Milo has presented regularly at the Boston Book Festival and The Muse & The Marketplace. He curates Writing Beyond Binaries, a panel series celebrating trans and nonbinary writers' experiences in various stages of their careers. Milo currently teaches writing at GrubStreet and he consults on fiction manuscripts and transgender inclusion in the classroom. You can follow him @todd_milo.