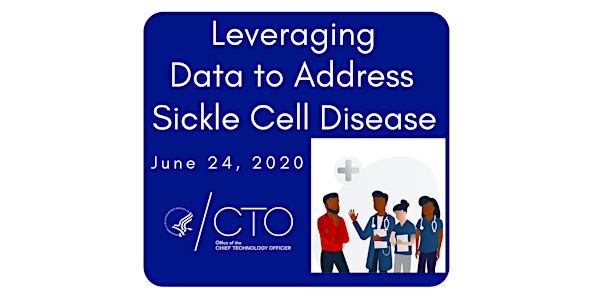 Leveraging Data to Address Sickle Cell Disease
This Webinar will identify data resources, gaps, and strategies to help improve the lives of those affected by Sickle Cell Disease.
About this event
Sickle Cell Disease (SCD), the most common inherited blood disorder, affects about 100,000 Americans and affects African-Americans disproportionately. This blood disorder is extremely painful, life-threatening, and difficult and expensive to treat with high medical costs. Moreover, these patients may have difficulty accessing affordable, high-quality medical care, and encounter racial discrimination when they seek treatment.
The U.S. Department of Health and Human Services Office of the Chief Technology Officer (CTO) and Office of the Assistant Secretary for Health (OASH) are addressing this issue head-on. By leveraging HHS institutional knowledge and expertise, we are bringing patients and key stakeholders together to accelerate the identification and implementation of innovative solutions to increase the quality of life for patients living with SCD. Once defined, these solutions will raise awareness to and better address the challenges of ER visits for SCD patients and help ease their transition of care from pediatric to adult.
Join us virtually on June 24th, 2020 at 12:00 pm EST to hear from the HHS Assistant Secretary of Health, Admiral Brett Giroir, Howard University President Wayne A.I. Frederick, and Georgia Department of Public Health Newborn Screening Epidemiologist Ankit Sutaria. The webinar will help you learn how you can get involved to identify data resources, gaps, and strategies for data application to help individuals with Sickle Cell Disease.
The Office of the CTO, the HHS OASH, and the Center for Open Data Enterprise (CODE) are co-hosting this event. This Webinar precedes a Roundtable to convene HHS leaders, federal and state government, the private sector, patient advocates, and academic and research institutions to address central themes faced by patients, including a patient's transition from pediatric to adult care, and the challenges faced by SCD patients accessing emergency care.
About the Speakers
Admiral Brett Giroir, M.D. is the Assistant Secretary for Health at HHS. He leads development of HHS wide public health policy recommendations and oversees 11 core public health offices, including the Office of the Surgeon General and the U.S. Public Health Service Commissioned Corps. He also serves as a Senior Advisor to the Secretary for Opioid Policy and has helped spearhead some of the Department's more innovative work. Among those efforts, the ASH has long taken an interest in Sickle Cell Disease and using data to address its consequences in a public health setting.
Dr. Wayne A.I. Frederick is the 17th president of Howard University and has been in that role since 2014. Dr. Frederick is a Howard alum, obtaining both his medical degree and Bachelors of Science by age 22. He is a distinguished scholar and surgeon, having served in a variety of academic capacities at Howard University and the University of Connecticut. He continues to give lectures to second year medical students at Howard and Dr. Frederick's research seeks to narrow the disparity in all cancer-care outcomes, with a focus on gastrointestinal cancers. Dr. Frederick also suffers from Sickle Cell Disease and has been proud of the efforts of Howard's Sickle Cell Center, which has been a leading institution of research and support for those who suffer from SCD.
Dr. Ankit Sutaria is a newborn screening epidemiologist working with the Georgia Department of Public Health overseeing newborn screening program, children 1st program and child health surveillance systems. Previously, Dr. Sutaria practiced medicine as a primary care physician at both rural and urban healthcare centers in western part of India. He received doctorate degree in medicine from Sardar Patel University, and received Master's in Public Health degree from Drexel University.
To learn more, please visit: https://www.hhs.gov/cto/initiatives/digital-services/health-plus/sickle-cell-disease/index.html