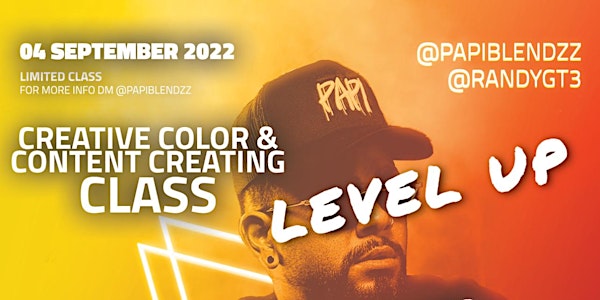 LEVEL UP - CREATIVE COLOR CONTENT CREATING CLASS
AS WE ALL KNOW, ONLY WAY TO OUT STAND NOW A DAYS IS BEING THE MOST CREATIVE POSSIBLE AND KNOWING HOW TO CAPTURE YOUR CREATION!!!
When and where
Location
Andama barber studio 727 NE SECOND AVE Fort Lauderdale, FL 33304
About this event
This September 4th I want to invite you to LEVEL UP - A CREATIVE COLOR & CONTENT CREATING class by @PAPIBLENDZZ & @RANDYGT3 in Fort Lauderdale, Florida! Where @PAPIBLENDZZ will be sharing all his creative color hair techniques and all his skills on how to get creative and capture a whole MASTER HAIR ART PIECE! @RANDYGT3 will be sharing all his experince with the professional camera and some of his editing skills for his amazing videos! We will be sharing from the right hair products to all production equipment to achieve the content you desire so you can start building your brand and out stand trough out the bunch!