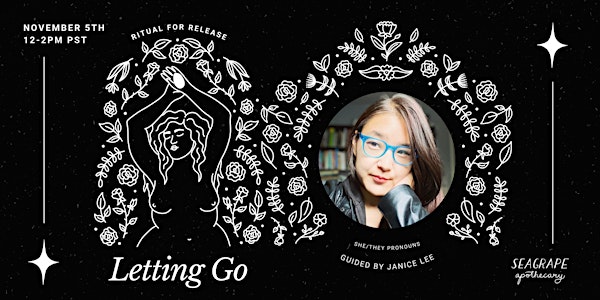 Letting Go: Community Ritual for Release
Sink into the season of shadow work with Janice Lee, who'll guide us through a ritual for release, so we can better embody the magic of now.
About this event
Letting go isn't about eliminating desire, ambition, or hope, but about unattaching ourselves from those hopes, about no longer clinging to a sense of control, about no longer seeing the world in a linear way. When we cling to the hope of a "better future," we long for a sense of control that has never and will never exist. We only see what's wrong now and wait for a future that is yet to come. We use all of our present energy waiting or trying to fix things because we are clinging to certain notions of justice or loss, but when we let go, we can live in the present moment, live with presence and awareness, have gratitude for everything that exists now, and imagine new futures that don't depend on replicating the energies of the systems we seek to dismantle or the patterns we seek to heal from.
Letting go means breathing, living with open arms, allowing for openness and vulnerability and possibility, and accepting what is while still creating the impossible. This workshop, led by Janice Lee (published writer, teacher, shamanic healer) will consist of a guided meditation, a freewriting session, and a communal ceremony (that will be finished on your own).
PLEASE BRING:
Tarot deck
Small object that represents what you need to let go of, or a small stone, that will be buried in the ground after the workshop
Notebook/ journal and a pen
_________________________
NOTE:
This live, online workshop will be recorded. A replay will be available for 30 days sent out to all registered participants.
Buying this course as a gift? Please include recipient's email address during checkout.
We use Zoom for online workshops - please have the app downloaded if using a phone.
Enrollment is accepted up until the day of the event.
Technical difficulties on the attendees end (sound issues, tardiness, wifi connection, video cut out, etc) do not entitle attendees to a refund. We recommend signing on 10 minutes early to sort out any issues.
Seagrape does not offer guidance around computer or Zoom usage, though we do send out a link including instructions on how to use Zoom 24 hours prior to all workshops.
Honor the privacy of others; what is said and shared in a workshop is not meant to share outside of the workshop except for what instructors give permission to share.
Questions? Email us at events@seagrapeapothecary.com
ABOUT THE INSTRUCTOR:
Janice Lee (she/her) is a Korean-American writer, editor, teacher, and shamanic healer. She is the author of 7 books of fiction, creative nonfiction & poetry and she writes about interspecies communication, plants & personhood, the filmic long take, slowness, the apocalypse, architectural spaces, inherited trauma, and the concept of han in Korean culture, and asks the question, how do we hold space open while maintaining intimacy? Incorporating shamanic and energetic healing, she teaches workshops on inherited trauma, healing, and writing, and practices in several lineages, including the Q'ero, Buddhism, plant & animal medicine, and Korean shamanic ritual (Muism). She currently lives in Portland, OR where she is an Assistant Professor of Creative Writing at Portland State University.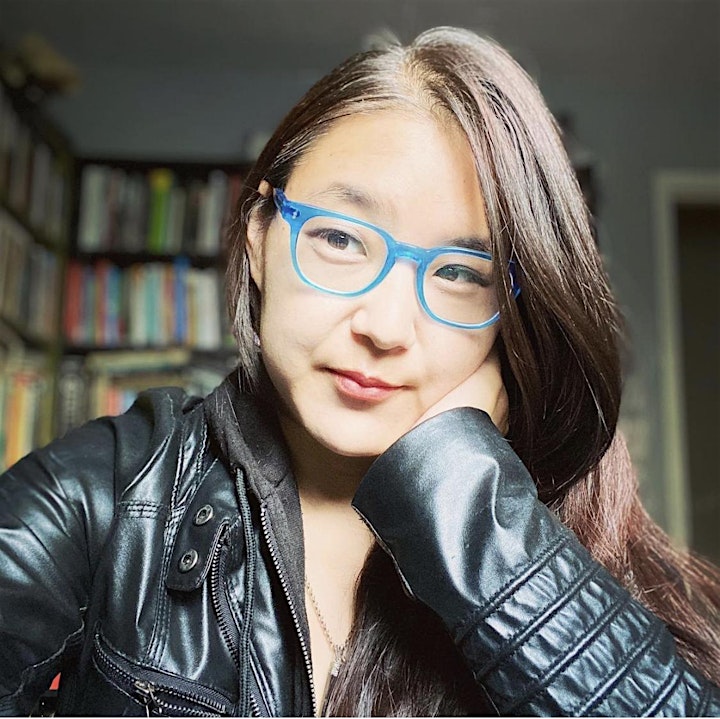 This workshop includes tiered ticketing as well as 10 FREE tickets for BIPOC. These tickets are first come, first served, so email us at events@seagrapeapothecary.com to reserve your spot! We're happy to sign you up for one free workshop ticket at a time.
We are able to accommodate varying income brackets by the honesty of our community through these trust-based options. This workshop is a focused offering meant as a dedicated dive into the subject of release. If this workshop is cost prohibitive, check our blog for free resources and insights, or email us at events@seagrapeapothecary.com and we're happy to discuss payment options. We are dedicated to accessibility for all, as well as ensuring fair payment to our valued instructors.
Consider also signing up for the Seagrape Newsletter full of free and juicy content every month. Click here and scroll to the bottom right to sign up.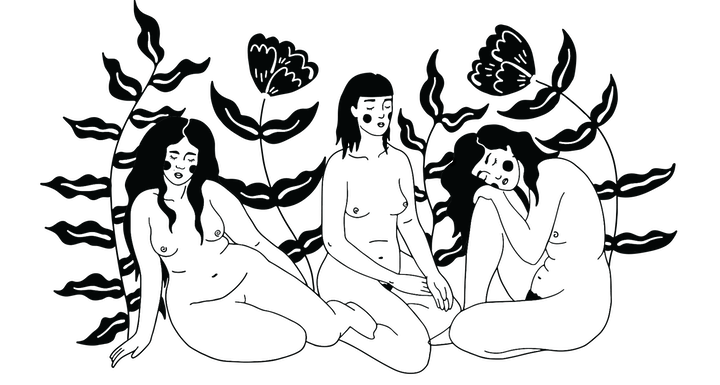 If you're interested in cultivating community, join Seagrape Babes !
Our private online community includes exclusive videos, blog posts, gatherings, conversation, special guest shares and more. Membership starts with $25/ month, or $200 for a full year (2 free months!). Cancel anytime. Click here to find out more.
DO YOU EVER...
Wish you had a witchy community that had your back?
Wish you had a place to go to research self-care and ritual?
A place to ask questions, learn, and support other babes.
Wish you had a hub of encouragement, tips, videos, and discussion to help you lean into pleasure and self-care more?
Wish you could find likeminded people for a meet up, moon circle, or specific ancestral practice work?
Wish you could have tea with Maria, the owner of Seagrape?!
Well, you're in luck because all of this and mores come with being a part of the Seagrape Community!