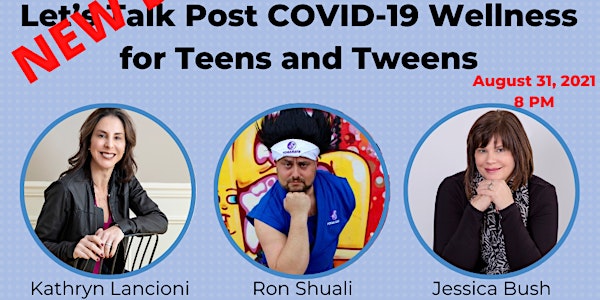 Let's Talk Post COVID-19 Wellness for Teens and Tweens | HOSTED BY: NJCEC
NEW Tips and Tricks to help tweens and teens navigate their journey back to school/reality.
About this event
Ron Shuali will discuss how to unlock your mind and body's hidden abilities to create the life that YOU want!
Kathryn Lancioni, Presenting Perfection will discuss some ways to help your teen/tween transition back to the classroom. We'll review some basic tips for making solid first-day impressions and ways to reconnect with friends after months apart.
"Some children have thrived with online learning, and some have shut down and disconnected," says Jessica Bush of Tutor Doctor of North Jersey. She shares with us how we can best support those kids who will be anxious returning to in-person school and being away from their family, vs those kids who are eager to get back and see their friends, but may be fearful in other ways. The transition will be a challenge whether you have introverted child, or a highly social child. Most important, says Jessica, is to validate their feelings and lead with calmness. She will share with us ways to best navigate this transition.
---
NJCEC is hosting FREE hands on workshop for tweens and teens as they get ready to navigate the educational world after COVID.
---
Jessica Bush "making learning personal" is the foundation on which she has built her Tutor Doctor business. Her natural instinct for uncovering the unique needs and desires of students, helps them holistically by mastering their academics as well as building confidence and self-esteem.
Kathryn Lancioni is the founder of Presenting Perfection, a public speaking program for students of all ages. Through individual and group coaching, children and adults discover the simple way to discover their inner voice and become the narrator of their own story.
Ron "SHUA" Shuali, M.Ed. has been called the "Messiah of the Body and Mind." He awakens bodies to new possibilities in understanding how to truly identify, address and actually SOLVE problems. His laughter filled and eye opening experiences have multiple "Ah-HA!" moments.