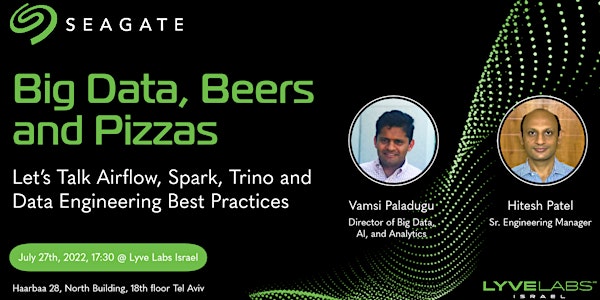 Let's Talk Airflow, Spark, Trino and Data Engineering Best Practices
Let's talk about data engineering structures and challenges from world leader storage company and share knowledge and experiences.
When and where
Location
HaArba'a Street 28 north building HaArba'a Street 28, 18th floor Tel Aviv-Yafo, Tel Aviv District 6473925 Israel
About this event
A Face 2 Face Meetup in English
Time Line:
17:30-18:00 Networking and pizzas
18:00-18:45: Best Practices in Data Engineering,
18:45-19:00: Q&A
19:00-19:30: Networking
Lecture Abstract:
• Selection of Platform, tools & technologies (ingestion, processing, user sandbox, end-user query)
• Deployment - scalable, efficient resource utilization (Spark, Trino, Airflow , K8S )
• Integration, access and security
• Monitoring and Alert (Resources, Data pipeline, through Grafana, Airflow)
• Learnings on running spark & trino on K8S
• Modular (ingest, curate, aggregate), low code and metadata driven framework based approach
• Auto recovery & low operation overhead
Bios:
Vamsi Paladugu has broad industry experience, with a specialization in Data and Analytics. He is a product manager for Lyve Cloud Analytics and also has been leading the Global BigData and Analytics organization at Seagate for the last four years. He managed the Global Data Analytics organization at SanDisk for 7+ years and most recently spent almost 2 years defining the big data architecture for the Construction startup Katerra. He has worked as a consultant on Data Analytics at several fortune 500 companies like Coca-Cola, Genentech and Levi Strauss. Key Focus Areas: BigData, AI, and ML Solutions
Hitesh Patel has 15 years of comprehensive experience in Data Engineering & Analytics, Middle tier, and Application development. He has vast experience in architect, designing, implementing and deploy enterprise-grade data solutions at a large scale. He carries experience deploying solutions on various public cloud providers. Thorough understanding of challenges in setting up enterprise data platforms, experts in providing data solutions on ingestion, quality, reconciliation, processing and best way to enable user with data stored on various data platform. Extensive knowledge integrating Big data platform & services with enterprise application, network and security in most secure & efficient way.