Location
University of Memphis - Rose Theater
470 University
Memphis, TN 38111
Refund policy
Refunds up to 1 day before event
Description
Muslims in Memphis presents an event that touch current day issues, how to keep our humanity in modern times. At times; let's just talk about it.
when voices of hatred and bigotry have been magnified, all of us must consider what we are willing to do to affect a positive change. Followed by a comedy show.
We are thrilled to present our keynote speakers and comedian, our guest speakers:
Pakistani-American, competitive Olympic weightlifter Kulsoom
Abdullah, former NBA basketball player Mahmoud Abdul Rauf
stand-up comedian Shelina Merani.
Refreshments will be served.
Limited seating please buy your tickets today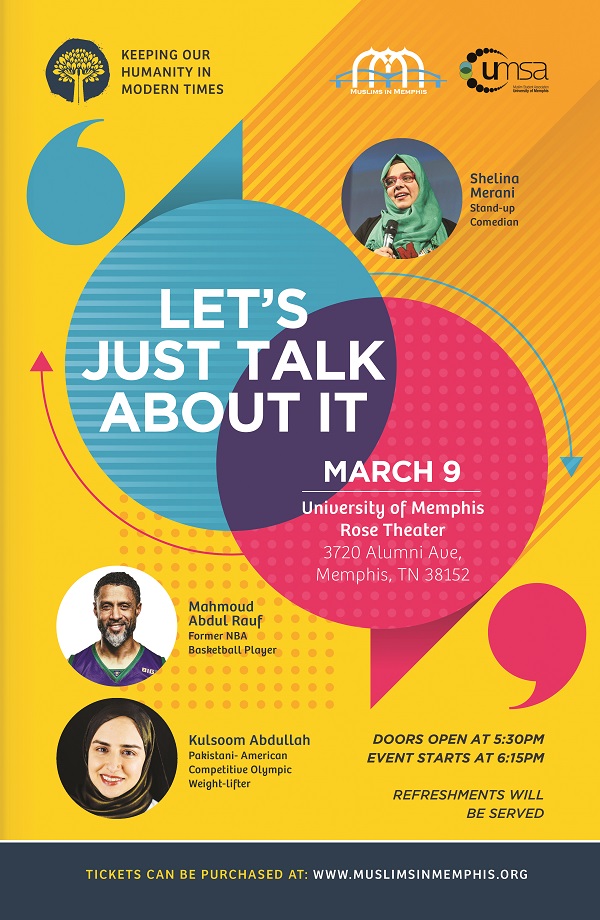 About the speakers
Sr. Kulsoom Abdulla
Kulsoom Abdullah is a Pakistani-American competitive Olympic Weightlifter and received her Crossfit Level I certification. Her website LiftingCovered.com and Facebook page document her experiences weightlifting in an effort to compete at U.S. national competitions. She advocated competing in clothing that adheres to religious codes, opening the door for women from cultures around the world to compete and move beyond preconceived notions of gender, race, and religion. Her efforts led to an invitation to deliver remarks following then Secretary of State Hillary Clinton at the U.S. State Department's Eid ul Fitr reception 2011. She represented Pakistan as the first female at the international level to compete at the 2011 World Weightlifting Championships. She currently resides in Atlanta, GA, working as a data scientist, is currently taking a break from major competitions while continuing training. She supports causes which focus on empowerment of the marginalized
Mahmoud Abdul-Rauf:
Mahmoud Abdul-Rauf (born Chris Jackson in March 1969 in Gulfport, MS) was a record-setting All-American shooting guard at Louisiana State before being drafted #3 overall by the Denver Nuggets in 1990 after his sophomore year. He was recognized during his college career as an athlete who had used the discipline and focus of basketball to successfully battle Tourette Syndrome. He was named the USBWA National Freshman of the Year in 1989 and won the SEC Player of the Year award twice (1989 & 1990). His initial years as a NBA professional player were challenging as he struggled with identity issues on and off the court. Initially inspired by the Autobiography of Malcolm X and later by Muslim friends and mentors in Denver he converted to Islam in March 1993. He credits the serenity and stability of his religious conversion to his subsequent athletic improvements (for example coming within a shot of breaking the NBA's free throw record by hitting 206 of 215 shots in 93-94. His highlights with the Denver Nuggets included participating in the 1993 Slam Dunk Contest, winning the Most Improved Player Award in that same year, and scoring a career-high 51 points against the Utah Jazz on December 7, 1995.
Shelina Stand up Comedy
Shelina Merani is a stand-up comedian, activist and award winning digital media strategist. She uses stand-up to empower and educate by deconstructing stereotypes, sharing halal beefs and building bridges. In her comedy, Shelina relays experiences of growing up in a strict immigrant household and the challenges of being a Muslim women. America's Got Talent wanted to hear about it and asked her to audition for season 12 in New York City. Although the reviews were good, the competition was stiff: singing and dancing dogs? CBC short docs covered her comedic journey: Shelina Stand up! and followed up by releasing in animation of Shelina getting "randomly" selected at an airport. She was also a finalist in the summer comedy competitions at Yuk Yuks and Absolute Comedy in Ottawa. Shelina revels in making people laugh – it's a non-alcoholic high!