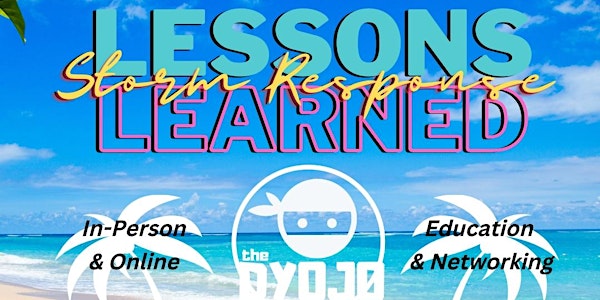 Lessons Learned from Storm Response and Hurricane Recovery Workshop
A one-day workshop offering education and networking on the topic of Lesson Learned from Storm Response and Hurricane Recovery
When and where
Location
Hilton Naples 5111 Tamiami Trail North Naples, FL 34103
About this event
Lessons Learned from Storm Response and Hurricane Recovery
Winter Break 2023 Post-Conference Hurricane Workshop
Hilton Naples Florida: Thursday, January 26th, 2023
5111 Tamiami Trail North - Naples, Florida
Workshop Host: Jon Isaacson - thedyojo.com
Program Facilitator: G. Pete Consigli - Industry Adviser & Historian
7:30-8:30am: Registration, Sponsor Set-up, Continental Breakfast
8:30am: Welcome, Opening Comments, Introductions
Pete Consigli, CR, Jon Isaacson, Cliff Zlotnik, CR, and Ashley Easterby
First Round Morning Sessions:
The Legal and Risk Management Panel: On Zoom from Orlando!
"The Legal Eagles: David Popper & Justin Petersen:
"The Risks and Legal Requirements to Contracting in Florida": DPBR Licensing &
Regulations for "Storm Chasers"!
The Remediation Panel; In Person
Michael Symula, IEP (Assessment) & IAQ Josh Winton, CIE (Remediation)
"Hurricane Ian Case Studies an IEP Perspective: "What we had, what we did, what
happened and what we learned?"
"Working with IEP's & 3rd Party Consultants: Best Practices for Secure Containment &
Clearance on PRV the FIRST Time!"
10:15-10:30am: Mid-Morning Break
Second Round Morning Sessions:
The Restoration Panel: In Person
Bob Blochinger (Flooring Consultant) & Casey Clark (Full-Service Contractor)
"Effectively Working with a 3rd Party, Roles & Goals, A Road Map to Win-Win!"
"A Restoration Contractor's Insider Secrets: Mobilizing, Responding, Mitigating,
Recovery...AND getting Paid; after a Catastrophic Storm!"
"A Special Preview and Industry First by Kris Rzesnoski, CR: In Person"
A Ted Talk, Encircle Research Data on: "Lessons Learned from Hurricane Ian"
"Shane Bailey on Marketing to Property Owners & Managers": In Person
"Using a Before the Storm Strategy to get a Foot in the Door: A Mechanical
Contractor's Perspective to Documentation of the Building Envelope and Systems"
Noon to 1:00pm: Intermission: Buffett Lunch, Networking & Sponsor Demos On-site
1:05pm: Welcome Back!
First Round Afternoon Sessions:
"The Restoration Lawyer, Zooms in from Southern California!"
RIA's Advocate Ed Cross: A National Perspective to Chasing Storms, Risks vs.
Rewards, A Do and Do Not Do Checklist to Avoid Pitfalls & Get Paid On Time!"
Moderated Interactive Q&A: The Restoration Lawyer: In person and On-line chat Log
The Science Panel: In Person
Ralph Moon, PhD, and Jeremy Beagle, CIH," Just the Facts on Research, Being
Deposed and Dealing with Experts and Plaintiff's Sharks!
"You Finished the Remediation Project with a Happy Client...Until you get the Call,
Houston We Have a Problem!": A presentation of a peer reviewed IICRC Journal
article on, Mold Growth After Effective Remediation!
"A Certified Industrial Hygienist's Perspective on: Qualifying IEP's, Complying with
Industry Standards & Strategies for Sampling, PVR, and Project Oversight & Clearance"
Moderated Interactive Q&A: The Science Guys: In person and On-line chat log
3:15-3:35pm: Mid Afternoon Break
3:40pm: Welcome Back!
Second Round Afternoon Sessions:
The Insurance Perspective:
Peter Crosa, AIC, RPA: On Zoom from Ft Lauderdale!
" An Independent Insurance Adjuster's Perspective: The State of the Property
Restoration Industry, Middlemen, Hitmen & Widow Brown, What is a Restorer to Do?"
Moderated Interactive Q&A: "Addressing "Hard Questions!": live & on-line chat log
The Round-up: IAQradio+ & The DYOJO Collaborate with the In-person and On-line
attendees for an Open Forum with the In-Person Speakers.
Round-up Facilitator: Pete "Restoration Global Watchdog" Consigli
Special Guest Moderator Panel: "Radio Joe" Hughes, Cliff, "Z-man" Zlotnik, Jon
'Intentional Restorer" Isaacson and Ashley Easterby, The Aussie from Down Under!
5:20-5:30pm: Wrap-up, Closing Comments and Adjournment; Consigli and Isaacson
PLEASE NOTE this workshop follows the Andrew Ask Building Science Symposium (AABSS2023), aka Winter Break 2023.
Monday, January 23, 2023 - The Moisture Mob Neighborhood Meet & Greet (aka The Cardigan Party)
Tuesday, January 24 - Wednesday, January 25, 2023 - AABSS2023. This is a SEPARATE two-day conference and registration. Check out climatezoneone.com.
Thursday, January 26, 2023 - Lesson Learned from Storm Response and Hurricane Recovery Workshop
CEC'S: Approved for continuing education credits (CECs): American Council for Accredited Certification (ACAC), Institute of Inspection Cleaning and Restoration Certification (IICRC), Restoration Industry Association (RIA)
FOOD: In-person registration includes continental breakfast, buffet lunch, and refreshment breaks.
LODGING: We have a limited number of room rates with Home2 by Hilton in Naples first and then the Fairfield Inn by Marriott in Bonita Springs.
Thank you to our SPONSORS, reach out to The DYOJO if you are interested in sponsorship:
AEML Labs, Inc - State of the art environmental laboratory solutions
Encircle - The leading field documentation solution
Sunbelt Rentals - A leader in the equipment rental industry
Large Loss Mastery - The solutions company
Thompson and Co, LLC - Get your copy of My Life is One Disaster After Another by Jim Thompson
Building Science Authority (BSA) - Shane Bailey
Tramex - The international leader in moisture meters
MEDIA SPONSORS:
Cleanfax Magazine - Take 5 Podcast
MEDIA SUPPORTERS:
C&R Magazine - Restoration Today Podcast
ASSOCIATION SPONSORS: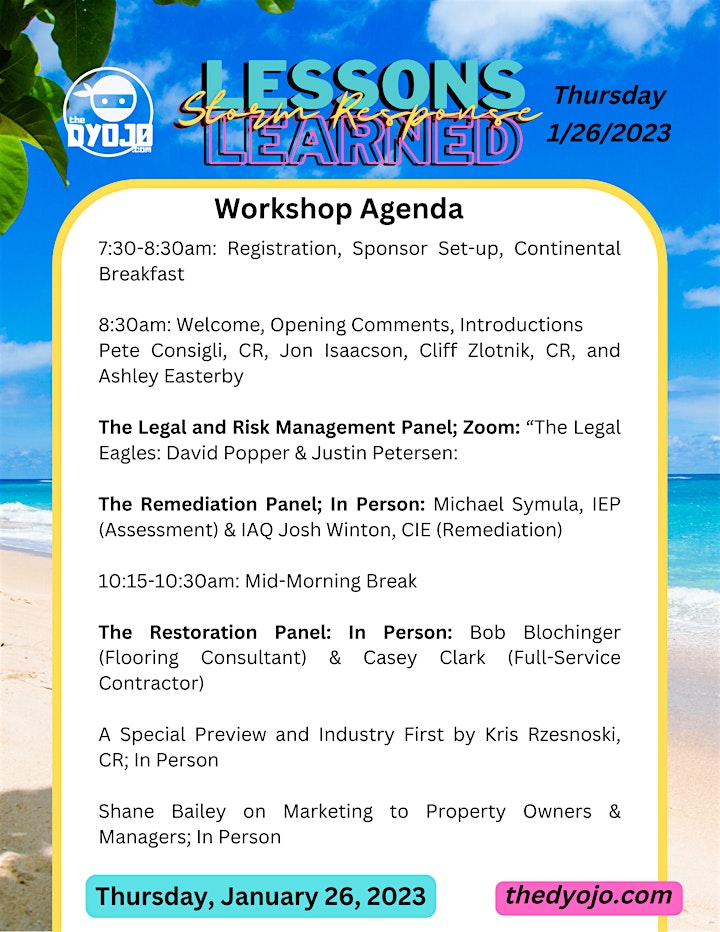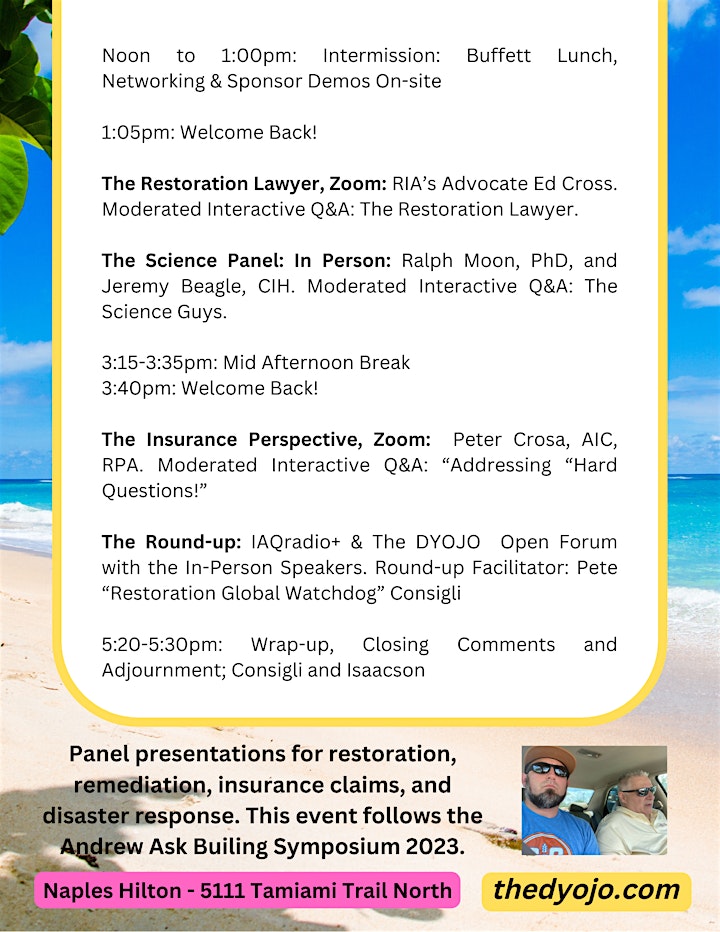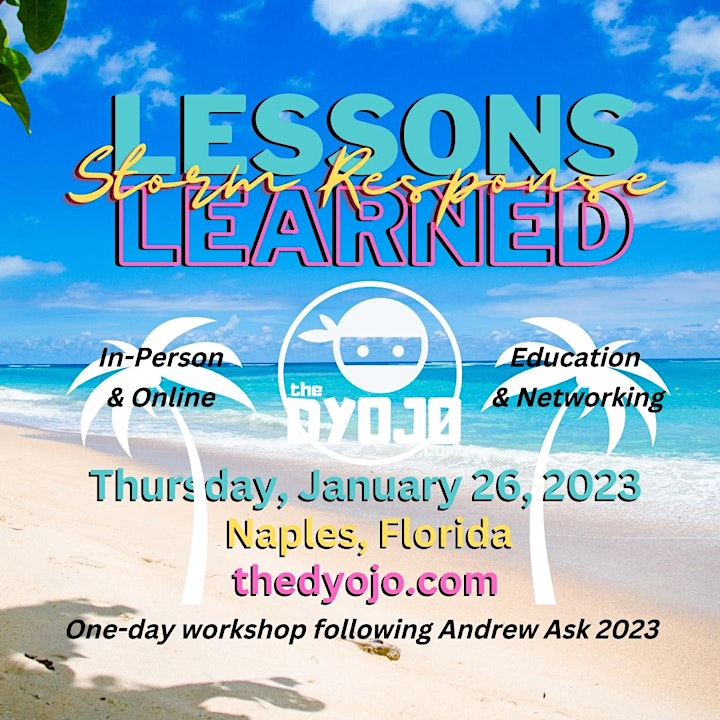 Anti-trust Policy Statement
It is the policy of The DYOJO (herein referred to as TDP) to comply with the letter and spirit of all applicable federal, state, and international trade regulations and antitrust laws.
All activities or discussions occurring under the auspices of TDP shall be conducted in compliance with the letter and spirit of TDP anti-trust policy and shall refrain from discussing topics which might be construed as tending to:
▪ (1) raise, lower, or stabilize prices
▪ (2) regulate production
▪ (3) allocate markets
▪ (4) encourage boycotts
▪ (5) foster unfair trade practices
▪ (6) assist in monopolization
▪ (7) or in any way violate federal, state, or applicable international trade regulations and antitrust laws.
Any activities and/or actions of TDP, its officers, directors, staff, invited speakers, or other participants and contributors which violate these regulations and laws are detrimental to the assessment, remediation, reconstruction, and restoration industries and contrary to TDP policy.
Professional Decorum Statement
It is the policy of TDP to ask educational event attendees, instructors, guest presenters, podcast participants and sponsors to refrain from making verbal or written slanderous or derogatory comments about individuals, companies, or other industry entities.
During formal presentations, audience interaction (Q&A sessions) and informal meetings connected with TDP podcasts and events it is encouraged that restraint be made from mentioning specific names if not required when asking a question or making a comment.
Please be respectful of other viewpoints during live interviews and at live events, state questions and comments in a generic form, when possible, to avoid complaints and disputes amongst TDP invited guests, attendees, event participants and industry stakeholders.
Thank you for complying with this policy designed to encourage a free exchange of ideas and opinions in a spirit of learning by an interaction among attendees with different backgrounds and experiences.
Copyright Statement
The DYOJO and/or its instructional presenters may present general resource and professional referral information to education events attendees and event participants in the form of printed and/or digital materials to serve as a resource for the purpose of professional development and company growth.
All rights reserved. All materials are subject to copyright laws, and any advice or information contained should be reviewed by an attorney in the demographic it is to be used.
The DYOJO is not responsible for the use and/or application of the information and materials provided.
The copyright exclusion does NOT apply to materials that do not include a copyright statement and are intended for utilization by the recipient as an education tool with associates, customers, and other interested parties. It is suggested before circulating materials to consider evaluation for applicability and intended purpose. This may include but is not limited to seeking counsel from an attorney, financial adviser, insurance professional and/or other subject matter expert.
Professional Disclaimer
The DYOJO and/or its instructional presenters will not be held liable for the use, interpretation, and application of any resource information. Furthermore, it is not the intent of TDP or its instructors, interviewees, show guests and presenters to provide professional, legal, medical or insurance advice during podcasts, workshops, or education event proceedings. Counsel on insurance issues, legal matters and/or professional advice surrounding restoration, remediation, IAQ issues and safety and health considerations should be sought by an expert in your service region's jurisdiction with knowledge of best practices and local statutes. The DYOJO does not necessarily endorse the companies or individuals opinion and viewpoint during a podcast or live event. Any statements made should NOT be considered the policy of The DYOJO.
Recordings and Photos: Privacy Statement
To allow for a free flow of information at live TDP events, attendees should refrain from recording live proceedings or interaction between presenters, guests, and attendees. Furthermore, permission should be asked and granted before taking and/or sending photos over the internet or through electronic means at events under The DYOJO auspices. Thank you for complying with this policy designed to facilitate open dialogue without a concern of statements being taken out of context.