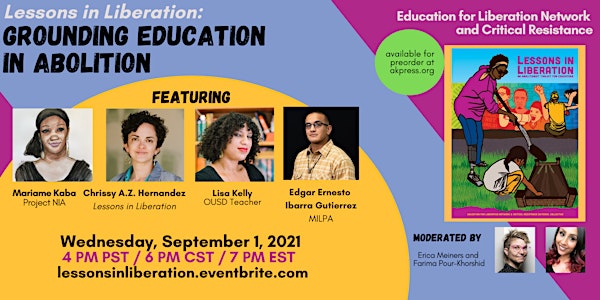 Lessons in Liberation Launch: Grounding Education in Abolition
Celebrating the release of "Lessons in Liberation: An Abolitionist Toolkit for Educators"
About this event
In celebration of the release of "Lessons in Liberation: An Abolitionist Toolkit for Educators" (forthcoming September 2021 from AK Press), we're excited to announce this webinar series to support abolition across educational contexts. The first of the series will focus on grounding education in abolitionist praxis. "Lessons in Liberation" is a collection brought together by the Education for Liberation Network and Critical Resistance to create bridges between abolition and education and to highlight existing organizing efforts. This collection, including the accompanying forthcoming website and discussion guide, offers educators, parents, and young people entry points to build critical and intentional connections to the growing movement for the abolition of the Prison Industrial Complex, particularly in PreK-12 learning contexts.
All webinars will be streamed via YouTube and Facebook. ASL Interpretation will be provided by Certified Deaf Interpreters and Deaf Interpreters. We will also provide CART Captions. Please contact Sheeva (she or they) at abolitionisteducation@gmail.com for any additional accessibility needs or accessibility questions.
Panelist Bios:
Chrissy A.Z. Hernandez—managing editor—is a writer, organizer, and educator from Salinas/Prunedale, California. A former teaching artist, Chrissy is now an assistant professor of service learning and social action at California State University, Monterey Bay.
Edgar Ernesto Ibarra Gutierrez is a Xicano indigenous activist from Watsonville CA. He is the Program and Leadership Coordinator at MILPA. While experiencing the S2PP and incarceration, Edgar is now focused on ending mass incarceration and building community and people power through a healing and cultural lens.
Lisa Kelly, an Afrolatina runner and rugby player from Sacramento, CA, is a 10 year teaching veteran. She is currently teaching at MetWest High School in the Oakland Unified School District. She teaches English and history from Abolitionist and Ethnic Studies perspectives and frameworks, while supporting students in pursuing their passions through community internships.
Mariame Kaba is an organizer, educator, and curator who is active in movements for racial, gender, and transformative justice. She is the founder and director of Project NIA, an abolitionist organization with a vision to end youth incarceration.