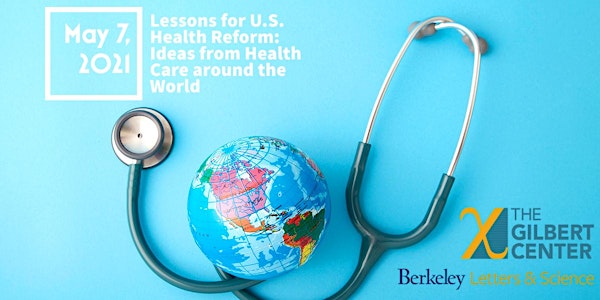 Lessons for U.S. Health Reform: Ideas from Health Care around the World
Lessons for U.S. Health Reform: Ideas from Health Care around the World
About this event
What can the U.S. learn from other health systems? Health economics and policy research in the U.S. has been primarily focused either on the details of the U.S. health care system or occasionally on systems in other countries at an aggregate level. Our belief, however, is that more detailed studies of health care in many nations outside of the U.S., particularly those in Europe, can offer valuable lessons for potential U.S. health policy reforms.
As part of UC Berkeley's public mission, we will be bringing together scholars to discuss lessons and ideas from other countries and how those might be related to U.S. health care reform.
Conference Schedule:
9:00 AM - 9:15 AM PDT Introduction
Jon Kolstad, UC Berkeley
9:15 AM - 10:05 AM PDT National Health Systems
UK: Carol Propper, Imperial College London
Taiwan: Tsung-Mei Cheng, Princeton University
Germany: Sebastian Bauhoff, Harvard University
Moderator: Paul Gertler, UC Berkeley
10:05 AM - 10:20 AM PDT Break
10:20 AM - 11:10 AM PDT Regulation and Innovation
Medical Devices: Matt Grennan, University of Pennsylvania
Drugs: Amitabh Chandra, Harvard University
Organization: Fiona Scott Morton, Yale SOM
Moderator: Ziad Obermeyer, UC Berkeley
11:10 AM - 11:25 AM PDT Break
11:25 AM - 12:15 PM PDT Translating to Biden Health Policy
Jon Gruber, MIT
Jon Kolstad, UC Berkeley
Leemore Dafny, Harvard Business School
Moderator: Ben Handel, UC Berkeley
12:15 PM - 12:30 PM PDT Closing Remarks
Ben Handel, UC Berkeley
If you require an accommodation for effective communication (ASL interpreting/CART captioning, alternative media formats, etc.) to fully participate in this event, please contact us at gilbertcenter@berkeley.edu with as much advance notice as possible and at least 7-10 days in advance of the event.
This conference was made possible by the sponsors of www.WorldHealthSystemFacts.org.