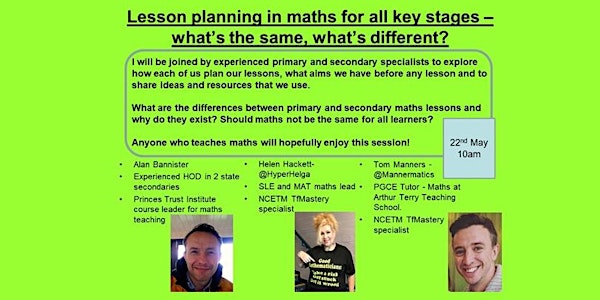 Lesson planning in maths for all key stages - what's the same, what's different?
Description
From: Tom Manners - @Mannermatics
(Please be aware that emails from Eventbrite with the links etc may appear in your junk mail folders!)
This next session is going to be different to the previous ones... it's going to be much better! Three heads are better than one, after all!
I have invited two colleagues (primary and secondary) that I really respect to join me to share how they plan their lessons. I hope that we will analyse and discuss the similarities and differences, whilst also able to share some fascinating ideas for all maths teachers to find interesting and maybe learn from!
Helen Hackett (@HyperHelga) is an SLE with huge passion for her role supporting primary schools as a maths consultant across the country. She is an NCETM PD Lead as well as TfMastery specialist, leads maths across her multi-academy trust and participated in the first Shanghai exchange with the NCETM.

Alan Bannister is an enthusiastic, experienced teacher, and has been Head of Department in two different state secondaries, teaching both mixed-attainment schools as well as in selective schools. He specialises in the history of maths, and A-level curriculum provision. He is also course leader for the Prince's Teaching Institute's "New Maths Teacher" subject days, and, in his own words, "a connoisseur of fine Maths jokes and punnery."
When you sign up, there are two ways to then access the event:
1) You will receive emails on the morning of the event and the day before telling you how to dial in so please don't worry. Please check your junk mail folders for emails from Eventbrite.
2) As some people have had issues accessing the emails, the link should show on the webpage when you sign up. Please save this and then put it into your browser at the correct time.
If you have missed my previous CPD sessions, please see below:
My session on bar modelling alongside problem-solving can be found here - https://youtu.be/LewdrLgehjc
My session on "Speak like a mathematician - the importance of the words we use in the classroom" can be found here - https://youtu.be/ZMYI6zp31lE
My first session on introduction to algebra tiles as well as looking at collecting like terms, expanding brackets and factorising, - https://youtu.be/qa9ug4qvsXY
My second session on algebra tiles/ representation, with a particular look at integers, can be found here - https://youtu.be/ZVOhNhCmKRo
And if you missed my session on "Teaching for Mastery? How about teaching for understanding!" based on the NCETM's 5 big ideas, then you can watch that here - https://www.youtube.com/watch?v=5ChXhR2RzRg&t=1353s