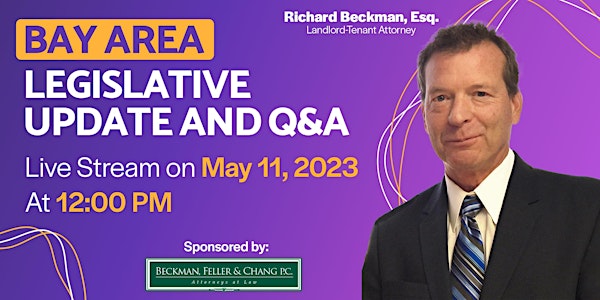 Legislative Update and Q&A - Bay Area
Richard Beckman, Esquire | Landlord-Tenant Attorney
By Apartment Owners Association
Date and time
Starts on Thursday, May 11 · 12pm PDT
About this event
Legislative Update and Q&A - Bay Area
Join this 20 minute AOA Livestream, where you will discover:
Answers to the five most commonly asked questions by AOA members
What you need to know RIGHT NOW
The status of the Oakland and Alameda County evictions moratoriums
Richard Beckman has been practicing landlord-tenant law for over 26 years, primarily in rent-controlled jurisdictions such as San Francisco, Oakland, and Berkeley. He represents clients in a broad range of real estate-related disputes, including partition of co-ownership interests, purchase contract disputes, insurance coverage analysis, and land use. Mr. Beckman also specializes in all aspects of landlord-tenant issues, representing landlords and tenants in residential and commercial matters.
Beckman Feller & Chang is dedicated to providing quality advice and affordable legal representation for a range of issues in the San Francisco, Oakland and the entire Bay Area. They have decades of experience defending individuals and businesses who have found themselves being named a party in all types of civil disputes and litigation.
The firm has developed special skills that are needed to efficiently and effectively manage and resolve real estate disputes, landlord-tenant litigation, both for private individuals and those referred by insurance companies to our office. For clients, they have expanded their services to provide estate planning and administration in the recent years. The attorneys have solid reputations in the community which allows them to remain strong advocates for their clients, providing thorough and effective representation in all types of legal matters they handle throughout the Bay Area.
CONTACT INFO:
Beckman, Feller & Chang, PC
510-548-7474
About the organizer
Founded in 1982 by Daniel C. Faller, AOA has become one of the largest apartment associations in the United States, thanks to you, our loyal members.
Don't forget to click on FOLLOW to get alerts of newly scheduled seminars!