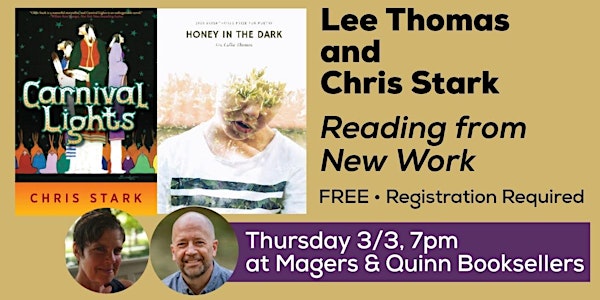 Lee Thomas and Chris Stark: Reading from New Work
Authors Lee Thomas and Chris Stark will read from their new books, Honey in the Dark and Carnival Lights
When and where
Location
Magers & Quinn Booksellers 3038 Hennepin Avenue Minneapolis, MN 55408
About this event
About Honey in the Dark:
"Much happens in the dark in the marvelous book, Honey in the Dark, by Lee Colin Thomas. So much is quietly loved as dusk falls, and then long past dusk: trees, windows shining in the distance, broken hearts, longing, even empty golf courses. This book feels deeply American, situated inside a solitude that sometimes feels calm, sometimes desperate as it reaches out towards another, toward others. The physical world shines in these pages like the skin of the gin-soaked olive Thomas writes about in one poem. Thomas's voice can be playful and wistful, but most often it feels grounded in ancient truths given new homes in these gorgeous poems" --Jim Moore, author of Underground and Invisible Strings, four-time winner of the Minnesota Book Award for poetry
Lee Colin Thomas is a Minneapolis poet, communications consultant, and university instructor. His poems have appeared in Poet Lore, Water~Stone Review, Midwestern Gothic, Cimarron Review, and various other journals. He is a three-time finalist for Narrative Magazine's Annual Poetry Contest and winner of the 2020 Brighthorse Prize for poetry for his collection Honey in the Dark (Brighthorse Books 2021). Online at www.leecolinthomas.net
About Carnival Lights:
Blending fiction and fact, Carnival Lights ranges from reverie to nightmare and back again in a lyrical yet unflinching story of an Ojibwe family's struggle to hold onto their land, their culture, and each other. Carnival Lights is a timely book for a country in need of deep healing.
"Fluid in time and place, Carnival Lights flows between one past and another, offering a heartbreaking portrait of multigenerational trauma in the lives of one Ojibwe family. This tapestry of stories is beautifully woven and gut-wrenching in its effect. Read it, and it may change you forever." -- William Kent Krueger, New York Times Bestselling Author
Chris Stark (Anishinaabe and Cherokee) is an award-winning writer, educator, organizer, and researcher. Her first novel, Nickels: A Tale of Dissociation, was a Lambda Literary Award finalist. Her essays, poems, and academic articles have been published in numerous periodicals and books. For more information: christinestark.com
A note about in person events:
We are very excited to bring authors and readers back together in our space, and we know you are too!
As we all navigate the transition back to congregating in person, we ask that you use honesty, care, and understanding in interacting with fellow event-goers, staff, and authors.
Please note that Magers & Quinn will always comply with current city and state regulations, and reserves the right to change the below policies at any time. These are guidelines only, and if you have questions about the most up to date information, you can always call us at 612-822-4611.
For information about how our in-person events will work over the coming months, please read on:
Q: Are masks required?
A: Yes. As of January 2022, there is an indoor mask mandate in Minneapolis. Masks will be made available for event-goers who have not brought one with them.
Q: Are in store events free?
A: Yes, Magers & Quinn events are free and open to the public unless otherwise noted.
Q: Do I need to RSVP?
A: Yes, please. Each event will now include a registration link.
As we navigate this step back to in-person events, we will be limiting event capacity to ensure a safe and comfortable experience for all attendees and authors. By requiring pre-registration, we can easily communicate event updates and policies with those who plan to attend, and can contact attendees after the event with follow-up information.
We strongly suggest registering via the Eventbrite link provided on our website, but if you are unable to sign up online, please call or visit the bookstore and register with a bookseller.
We may or may not be able to accommodate unregistered walk-ins, and seating priority will always be given to registered customers. We appreciate your understanding of this new process!