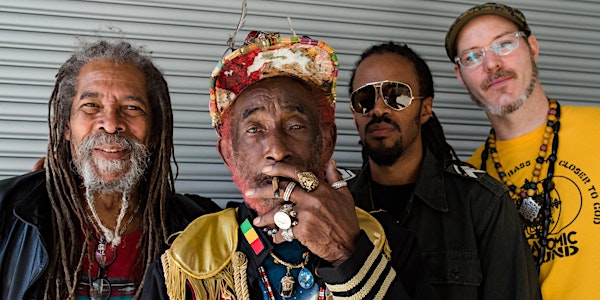 LEE "SCRATCH" PERRY + SUBATOMIC SOUND SYSTEM
Ages 21+
Nectar & SolidSound present
2019 North America Tour
When and where
Location
Nectar Lounge 412 North 36th Street Seattle, WA 98103
Performers
Headliners
Lee "Scratch" Perry and Subatomic Sound System
Lee "Scratch" Perry and Subatomic Sound System
More Performers
About this event
10.30 Wednesday (Reggae)
Nectar & SolidSound present:
LEE "SCRATCH" PERRY
+ Subatomic Sound System
with DJ Kid Hops (KEXP)
$22 - $25adv
8pm, 21+
Nectar Lounge
412 N 36th St
www.nectarlounge.com
At 83 years young, Grammy winning dub and reggae pioneer Lee "Scratch" Perry shows no signs of slowing down, not his rebellious creativity nor his performance schedule. In Fall 2019, Scratch will return with a new set of music reaching from his past genre defining classics to his latest new musical experiments, aided by the technology of his long time band NYC's Subatomic Sound System, a hybrid band of new school electronics and veteran Jamaican musicians from the Black Ark era recordings. Scratch & Subatomic recently completed a 45th anniversary tour across North America for his 1973 Blackboard Jungle Dub album, performing the world's first dub album live for the first time, nearly every show to capacity crowds (Check the video recap http://bit.ly/BJD45t ). They will perform music from a forthcoming release as well as selections from their album "Super Ape Returns To Conquer" ( http://bit.ly/SS033s ) (which topped both reggae and electronic charts in 2018) plus singles like "Black Ark Vampires" (http://bit.ly/BAVss ) and classics from Perry's work with the likes of Bob Marley, Max Romeo, and many more.
Perry's collaborations in the early 1970s with Bob Marley & The Wailers defined the reggae genre and launched them to super stardom, but Perry himself shifted his focus in 1973 to constructing his infamous Black Ark recording studio so he could create a mystical new genre called "dub" made by using the mixing board as an instrument and stripping the music down primarily to drums and bass. Blackboard Jungle was the world's first dub reggae album, and signaled not only the birth of dub as a genre, but also the dawn of remixing, the concept of the producer as an artist, and the power of an independent home studio to create world class music – ideas that impacted so many people around the world that they have essentially become the blueprint for music in the 21st century. Kanye West & Jay Z have sampled his recordings, the Sex Pistols hailed his work as inspiration for the punk movement, and artists across generations like Paul McCartney, Keith Richards, The Clash, The Beastie Boys, and Major Lazer have all sought out Perry for collaborations.
For over eight years in the USA, Subatomic Sound System has been Scratch's go to band for bringing his Black Ark Studio sound live to the stage, a unique hybrid configuration that brings together a handful of live musicians like legendary Jamaican percussionist Larry McDonald (Peter Tosh, Bob Marley, The Skatalites, Gil Scot Heron) with computers and live dub mixing of classic recordings as well as brand new sounds Scratch hears from outer space. Formed in NYC at the turn of the millennium, Subatomic Sound System tours worldwide as DJ or live performance and band for Lee Scratch Perry; runs the Subatomic Sound label; hosts a radio show on Brooklyn Radio; and founded Dub Champions Festival.
Born in Jamaica in 1936, Lee "Scratch" Perry has been overturning tradition and confounding conventional wisdom for more than six decades. In the process, the widely acknowledged father of dub reggae became arguably the first creatively driven "artist-producer" in modern recorded music. In 2004, Rolling Stone Magazine ranked Perry on their list of the 100 Greatest Artists of All Time. Lee Perry began in the music business in the 1950's and by the 1960's became known for his innovative production techniques as well as his eccentric character. His first single "People Funny Boy" in 1968 was notable for its innovative use of sampling as well as a fast, chugging beat that would soon become identifiable as "reggae". Concurrent with his own releases with the Upsetters, Perry produced numerous reggae artists at his Black Ark studio, including Bob Marley and the Wailers, The Heptones, and Max Romeo.
After his famed Black Ark Studio was consumed by fire, Perry took refuge in England and the USA performing live and making records with collaborators from a wide range of musical genres, all artists who had been inspired by his innovative work. NYC bass music specialists Subatomic Sound System connected with Scratch in 2007, creating his first dubstep remixes through a collaboration with Vienna's Dubblestandart.
Lee "Scratch" Perry, 83 years young and now into his sixth decade as a pop-music provocateur, has few peers when it comes to fresh ideas and their implementation. Perry remains one of the world's most imaginative sonic architects and his live show with Subatomic Sound System is proof that regardless of his age, he continues to break new ground.