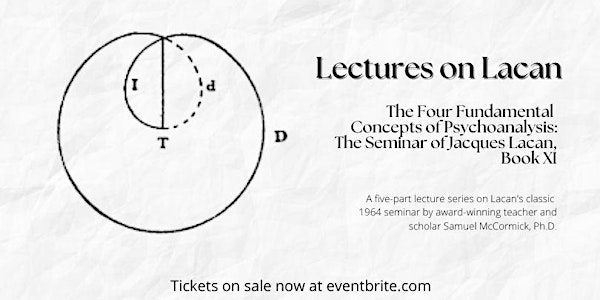 Lectures on Lacan: The Four Fundamental Concepts of Psychoanalysis
Five-Part Online Lecture Series on Jacques Lacan's Four Fundamental Concepts of Psychoanalysis (Seminar XI)
About this event
Who should attend: This event is open to all. No prior familiarity with Lacan's work is required or expected. Students, scholars, clinicians, independent learners -- all welcome to attend! Indeed, there will be something for everyone in this lecture series: foundational terms and ideas for new readers of Lacan, advanced mathemes and summative diagrams for seasoned Lacanians, and widely accessible commentaries on all aspects of Lacanian theory and technique for everyone in between. Participants will also have access to digital recordings of all lectures and diagrams in the series, so it will be easy to catch up on any sessions you miss or materials you wish to review.
What we'll be reading: Jacques Lacan, The Four Fundamental Concepts of Psychoanalysis, The Seminar of Jacques Lacan, Book XI, ed. Jacques-Alain Miller, trans. Alan Sheridan (New York: Norton, 1978): ISBN: 0-393-31775-7.
When we'll be meeting: Every other Wednesday from 6-9pm PST:
June 29: Chapters 1-4
July 13: Chapters 5-8
July 27: Chapters 9-12
August 10: Chapters 13-16
August 24: Chapters 17-20
And no worries if you fall behind on the above reading schedule, as we'll be working through many key passages as a group in each session.
Costs to attend: Pay what you can. Suggested donation for the entire lecture series: $100-$200.
How to attend: Registered participants will receive a Zoom link via email before each session, so be sure to add lecturesonlacan@gmail.com to your contacts.
About The Four Fundamental Concepts of Psychoanalysis (Seminar XI):
Jacques Lacan is widely recognized as a key figure in the history of psychoanalysis and one of the most influential thinkers of the 20th century. His writings, and especially the seminars for which he has become famous, offer a controversial, radical reappraisal of the legacy bequeathed by Sigmund Freud. The Four Fundamental Concepts of Psychoanalysis is based on a year-long seminar in which Lacan addressed a larger, less specialized audience than ever before, among whom he could not assume prior familiarity with his work. In particular, he wanted to introduce some coherence into the four major concepts on which psychoanalysis is based: the unconscious, repetition, the transference, and the drive. Along the way, Lacan argues for a structural affinity between psychoanalysis and language, discusses the relation of psychoanalysis to religion, and reveals his particular stance on topics ranging from sexuality and death to alienation and repression. For all these reasons, and many more, The Four Fundamental Concepts of Psychoanalysis will be of great interest to students and practitioners of psychoanalysis as well as students and scholars across the humanities and social sciences, from literature and critical theory to sociology, psychology, and communication studies.
Click HERE for more information about the book and purchasing options.
About the Lecturer:
Samuel McCormick, Ph.D., is an award-winning teacher and scholar. He lectures widely on Lacanian psychoanalysis, is Professor of Communication Studies at San Francisco State University, and was recently appointed EURIAS & Marie-Curie Research Fellow at Aarhus Institute of Advanced Studies in Denmark. His first book, Letters to Power: Public Advocacy Without Public Intellectuals, won the Franklyn S. Haiman Award for Distinguished Scholarship in Freedom of Expression, the James A. Winans - Herbert A. Wichelns Memorial Award for Distinguished Scholarship in Rhetoric and Public Address, and the Everett Lee Hunt Award. His second book, The Chattering Mind: A Conceptual History of Everyday Talk, was recently published by the University of Chicago Press.
More about Lectures on Lacan and Prof. Dr. McCormick HERE.