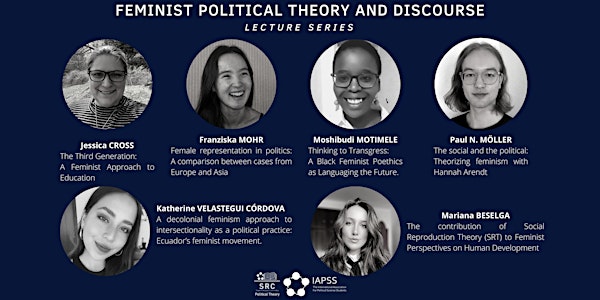 Lecture Series on Feminist Political Theory and Discourse Day 3
This lecture series aims to explore the concept of feminism through the lens of six established and upcoming academics.
About this event
Lectures on Day 3
A decolonial feminism approach to intersectionality as a political practice: Ecuador's feminist movement, Katherine Velastegui Córdova, MA Candidate in International Migration and Public Policy, London School of Economics and Political Science
This research aims to discuss the relevance of colonialism and remnants of social hierarchy within gender expressions and related reflections by feminist movements located in the Global South. Springing from the following question: Can decolonial feminism incorporate intersectionality as a political practice in Ecuador's feminist movement?
With the objective of falsifying the presented hypothesis, the methodology this research drew upon is a hermeneutical-interpretative approach, which positions diverse women's testimonies and experiences as rich categories of knowledge production. Three sections constitute this research. The first section outlines the country's (Ecuador) feminist movement contextualization. The second section addresses certain contributions to analyze decolonial feminism as well as intersectionality. Finally, this work presents a critical discussion of the feminist movements' narratives in Ecuador in order for women and dissidences to reflect and enunciate themselves from the diversity of otherness in the Global South.
Register for Day 1: https://feministlectureseries-day1.eventbrite.com
Register for Day 2: https://feministlectureseries-day2.eventbrite.com