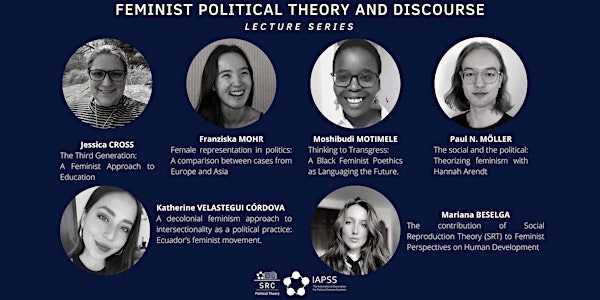 Lecture Series on Feminist Political Theory and Discourse Day 2
This lecture series aims to explore the concept of feminism through the lens of six established and upcoming academics.
About this event
Lectures on Day 2
Thinking to Transgress: A Black Feminist Poethics as Languaging the Future, by Moshibudi Motimele, PhD Candidate in Political Science, University of the Witwatersrand, Johannesburg
Taking to task the onto-epistemological aspects of coloniality as they find expression in University curriculums, this paper considers the different strategies available to black creatives and intellectuals to disrupt dehumanizing pedagogical practices premised on an anti-black, Euro-American worldview. Disrupting dominant economic narratives on South African students call to decolonize the university, this paper takes seriously the curriculum as a site of subject formation and epistemic warfare in which black students are demanding a theory and praxis which affirms their legibility and emancipatory aspirations. In what ways can the contemporary, 'post-democratic' curriculum be seen as an extension of that agreed upon at the South African Commission of Native Affairs in 1903? Put differently, to what extent have black intellectuals been successful in creating the space for an emancipatory political imagination within their classrooms and course outlines? At the intersection of Soudien's 'What to teach the native?', Woodson's Mis-education of the Negro, Harney and Moten's Undercommons and students claims of intellectual alienation in the classroom is a serious claim of the impossibility of restructuring western educational institutions in ways that betray their racist, capitalist foundations. I then turn to a Black Feminist Poethics as offering the epistemological and methodical foundations for manoeuvring out of this current heteropatriarchal white supremacist world (ala bell hooks) into one where we can bring about the necessary resignification and critical fabulation to begin to think about a new world.
The social and the political: Theorizing feminism with Hannah Arendt, by Paul N. Möller, BA Candidate in Political Science and Philosophy, Leipzig University
This lecture aims to re-evaluate Hannah Arendt's distinction between "the social" and "the political" (of which she criticizes the former and advocates for the latter) in light of two recent proposals for interpreting The Human Condition. Sophie Loidolt offers a specific mode of analysis she calls "spaces of meaning" and Philip Walsh suggests interpreting The Human Condition as social ontology. Departing from Arendt's fundamental triad labor—work—action, the social-political distinction is confronted with these modes of analysis, focusing especially on how "the social" and "the political" can be understood as distinct modes of collective action. Arendt's distinction will be applied as a critical standpoint on how collective action is realized by using the example of feminism.
Register for Day 1: https://feministlectureseries-day1.eventbrite.com
Register for Day 3: https://feministlectureseries-day3.eventbrite.com