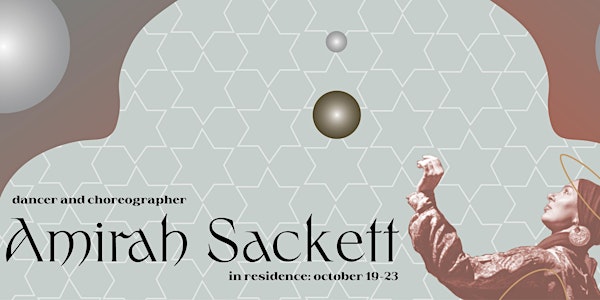 Lecture & Demonstration with Amirah Sackett
Presented as part of Amirah Sackett's residency at Boston University, by the BU Arts Initiative and BU Dance Program
Date and time
Thursday, October 22, 2020 · 5:30 - 6:30pm PDT
About this event
As a culmination to her residency at Boston University, Amirah will discuss the misconceptions about Islam and Muslim Women, and share her personal experiences participating in hip-hop culture around the world and the reasons she began melding her Muslim and American identities in her work. Additionally, she will share a live performance of her work, including her new work combining the poetry of Rumi with the sound design of Chicago DJ, Nevin S. Hersch, and the cinematography talents of Tunisian filmmaker, Ahmed Zaghbouni.
For more information about the event, please visit our website.
About Amirah Sackett
An internationally recognized hip-hop dancer, choreographer, and teacher, Amirah Sackett explores and embodies her Muslim American identity through combining hip-hop movement and Islamic themes. She is widely known for her creation of the choreography and performance group known as, "We're Muslim, Don't Panic", which reached viral video fame after being featured on POPSUGAR Celebrity, The Huffington Post, AJ+, and Upworthy. Sackett was honored to be a TEDx speaker, guest lecturer at Harvard University, and a cultural diplomat with the U.S. State Department in Bangladesh, Malaysia, and Kuwait.
To learn more about Amirah's residency at BU , please visit our website.
About the organizer
The Boston University Arts Initiative ensures that the arts are fundamental to the BU student experience both inside and outside the classroom.