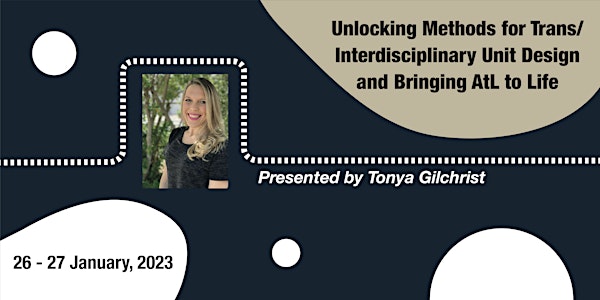 Learning that Matters: Unlocking Methods for Trans/Interdisciplinary Unit
Ever feel like your transdisciplinary and/or interdisciplinary units are filled with forced fits?
When and where
Location
International School of Amsterdam 45 Sportlaan 1185 TB Amstelveen Netherlands
Refund Policy
Contact the organizer to request a refund.
Eventbrite's fee is nonrefundable.
About this event
Are you sometimes grasping for straws just for the sake of calling a unit trans/interdisciplinary?
And what about approaches to learning (AtL)? Perhaps you've even identified focus skills for units and learning experiences…but sometimes it still feels like these skills live on paper and posters only. How can you bring them to life with students?
These questions are far too important to ignore. If students don't leave us with conceptual understandings and skills that allow them to self-navigate and self-adjust for life…well, then, what is education for?
Join Tonya and educators from around the world for two days of collaboration, learning, and growing new ideas together. Across our time together, we'll explore:
- characteristics of—and misconceptions surrounding—transdisciplinary and interdisciplinary learning and teaching
- how to frame your units with central ideas and statements of inquiry that go between, across, and beyond the disciplines
- the layers of surface, deep, and transfer learning—and what this means for inquiry-based learning and teaching
- the power and importance of self-regulation and metacognition—and ways you can intentionally design learning opportunities for students to practice and grow in these skills
- methods for leveraging captivating content and student agency in ways that also lead to lasting learning and conceptual understandings
- ways to move from a focus on task/product to a focus on learning/process
- how to intentionally design opportunities for students to grow as knowledgeable learners as well as inquirers and thinkers—not either/or, but and/both
- how to nurture self-regulated learners who self-monitor, self-assess, and self-adjust
- tools and techniques you can use across a unit to ensure learning, teaching, assessment, and student ownership are truly in alignment.
Leave with practical, transferable resources you can use again and again to design for learning that truly matters.
Tonya Gilchrist is an international learning strategist who specializes in helping schools around the world amplify inquiry and honor agency for deep learning and transfer across languages, literacies, and disciplines. From Readers'/Writers' Workshop to Reggio to UDL to IB, Tonya works with schools to tailor professional learning just for their specific contexts and their unique needs. Previously, she enjoyed many years as an educator, instructional coach, and curriculum specialist. Tonya earned her Masters Degree in Educational Leadership from Hong Kong University. She also holds an IB Certificate in Leadership Practice and an IB Advanced Certificate in Leadership Research.
When she's not onsite supporting schools all over the world, Tonya enjoys living in the Mediterranean sunshine in southern Europe with her husband.