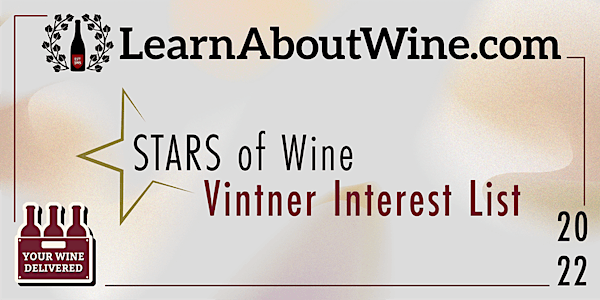 LearnAboutWine.com Vintner Interest List - 2022
Sign up here to let us know of your interest & receive information about each event!
Location
Nationwide Virtual Tastings and In-Person Los Angeles Events Greater & Surrounding Los Angeles, CA
About this event
SIGN UP HERE FOR THE EVENTS YOU MAY BE INTERESTED TO PARTICIPATE IN
Calling all Vintners, brands, distributors, etc! This form lets us know if you are interested in more information about our LearnAbout Wine.com STARS Events - Consumer and/or Trade Virtual & In-Person Tastings.
All our STARS events are currently scheduled for Zoom, however, as soon as we are able to schedule in-person events again, we will do so!
We have tapped some amazing potential with our STARSofWine.com platform!
We love what the Zoom platform provides:
- more cost savings
- more impact
- wine is delivered nationwide!
Check out our previous STARS events at starsofwine.com
UPCOMING 2022 EVENTS
STARS of California - JANUARY 26 (SOLD OUT)
STARS of The Rhône Valley - FEBRUARY 16 (SOLD OUT)
STARS of Baja - MARCH 23
STARS of Italian Wine - APRIL 13
STARS of Spain - MAY 18
STARS of Sonoma - JUNE 15
STARS of Pinot - JULY 20
STARS of Rosé - AUGUST 17
STARS of German Riesling - SEPTEMBER 21
Los Angeles Magazine's Food Event - OCTOBER
STARS of South of the Equator - OCTOBER 12
Pacific Food & Wine Classic - OCTOBER 1
STARS of Merlot - OCTOBER 26
STARS of Cabernet - NOVEMBER 16
STARS OF FRANCE - DECEMBER 21