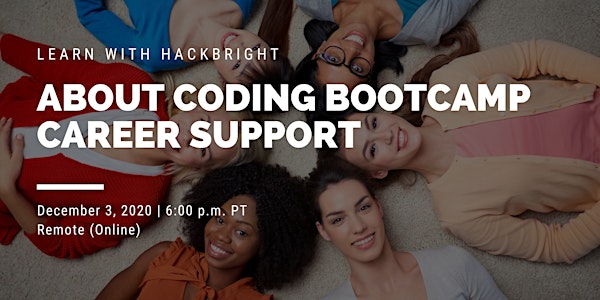 Learn with Hackbright: About Coding Bootcamp Career Support
Enrolling in a coding bootcamp can be a life-changing experience. Learn more about what the graduate outcomes are like and what to expect.
About this event
Hackbright Academy is the software engineering school for women. Join us on our mission to #ChangeTheRatio of women to men in the world of technology.
For this event, we're excited to get together for a virtual meeting using Zoom, December 3rd, 6-8 p.m. PT to discuss coding bootcamp career support at Hackbright.
Here's the plan:
The first 45 minutes to an hour will be a presentation on job searching above the cloud cover
The last half of the event will be a Q&A session with Christopher Dominguez, Director of Outcomes and Career Support at Hackbright
This is a good event to come to if you're:
New to bootcamp education
Interested in changing or amplifying your career within the tech world
Wanting to know more about outcomes for bootcamp graduates
About Career Support at Hackbright
Individuals attend coding bootcamps for many reasons. The majority of those who attend Hackbright do so with the purpose of changing their careers. Tonight's event will give you a great opportunity to understand our approach and solution for bootcamp student employment wants and needs. Questions are expected, so please bring yours!
About The Presenter
Christopher Dominguez
12 years of talent acquisition, staffing, and recruiting experience with nationwide markets
Tech, sales, and executive recruiting experience
Recruiting Board Member in the state of Utah
Specializes in finding next steps and helping grads stand out during the hiring process (differentiate)
First Time? Directions and Info Here
If it's your first time hearing about the coding bootcamp Hackbright, first of all, welcome!
Since this is an online event, you will receive an invitation to the Zoom meeting with directions in an email after you RSVP. Please RSVP with an email you have access to.
We look forward to meeting and visiting with you all.
Note: This event is password protected. The password will be emailed to attendees shortly before the event starts.