Description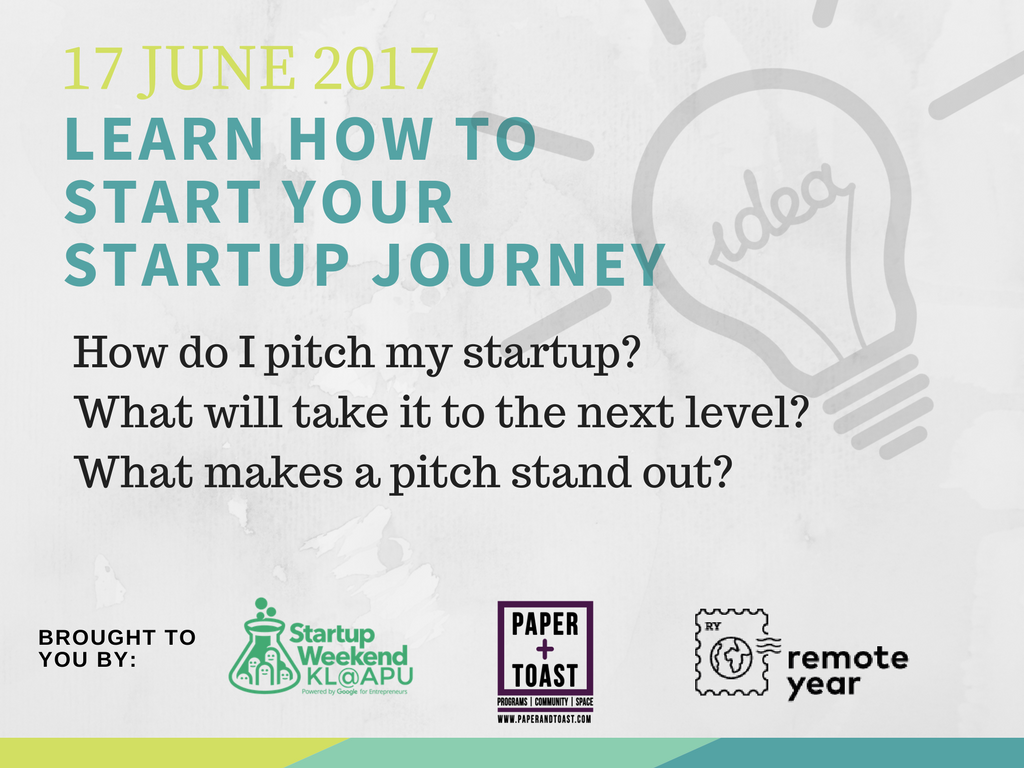 Startup Weekend KL, Paper,Toast co-working space and Remote year present to you "Learn How to Start you Startup Journey" workshop.Whether you are planing to kickstart your business or social entreprise, or simply want to know what an effective pitch looks like, this workshop will teach you how to pitch your idea in a compelling, succinct and powerful manner.

The event is free of charge and open to both students and the general public, however, capacity is limited. Please register for an Eventbrite ticket to secure your spot!
Speaker Information:
Jan Wong, Founder of OpenMinds
Jan Wong is the founder of multiple tech businesses and an online strategist armed with a Masters degree in Technology Management. He is also the founder of OpenMinds, a digital marketing startup in Malaysia that boostrapped their way up to a recent valuation of over USD3 million within a span of 4 years. Jan's passion in entrepreneurship has also led him to work with startups as a mentor in multiple startup events such as with Startup Weekend and Lean Startup, as a judge for startup competition and business pitches, and also invited to speak with thousands of aspiring entrepreneurs to date in various conferences and events. Through OpenMinds, Jan is also seen providing one-to-one mentorship in building businesses and has led startups to become profitable with actionable guidance.
Daryll Tan, Co-Founder of OpenMinds
Daryll Tan ventured into establishing his own talent management and video marketing business then merged his company and is the Co-Founder of OpenMindsTM Resources. He has been actively involved in Entrepreneurship, Business / Partnership development, Social Media consultation, creative strategizing and product development. He is also the Founder of PlaySafe, a social crime fighting initiative that focuses on making safety a right and not a luxury.
Specializing in creative marketing and ideation, he serves wholeheartedly to manage client accounts, consult industry leaders on social media positioning, oversee content creation and strategize on marketing campaigns to engage the intended target audience and build brands.
Daryll is blessed to work alongside high profile brands such as CIMB Group, Celcom, Nestlé, Sunway Group, Snowflake Malaysia, Menarini Pte Ltd, HAUS Living Concepts, MICPA, KL SOGO, Shang Nest, Enfiniti Vision Media, Encorp Berhad and many more. He has also been active in sharing his passion on entrepreneurship, leadership and social media to various media, organizations and events such as Microsoft, MaGIC, Monash University, IGNITE, Groupon, The Capital TV, IGEM and more.
Event Schedule:
2:00 PM: Registration
2:30 PM: Introduction - Introduction to Startup Workshop
2:50 PM: Pitching - Learning How to Give a Pitch
3:00 PM: Business Model Canvas - Learn How to Create a Business Model Canvas
3:20 PM: Break
3:30 PM: Implementation - Practice the Skills Learnt
4:10 PM: End of Pitching - Session End of Practice on How to Pitch
4:15 PM: Voting - Voting on the best Pitches
4:20 PM: Build the Startup - Building the Startup Ideas
5:00 PM: Voting Session - Voting on the Best Startup Ideas
5:30 PM: Closing Speech - Closing Speech of the Workshop