Learn How To Earn USD3500 In 4 Week Using Your SmartPhone
About this Event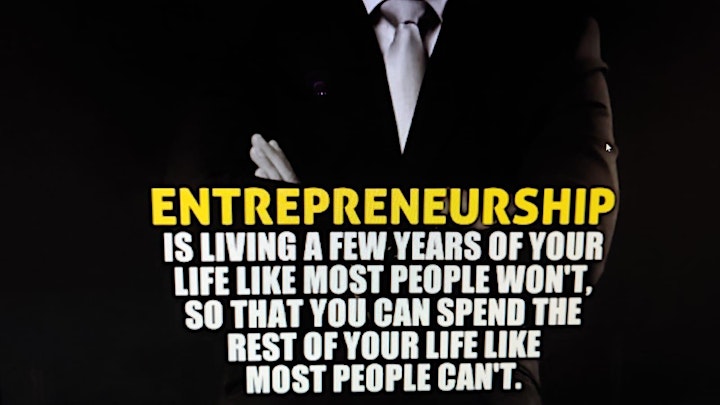 Seriously , I don`t think I have the power to control my profession but the only thing that I can control is my own destiny by making another pathway for myself.
When was the last time these statements came across your mind?
Quitting my day trade
Wants a lifestyle that`s bigger than your paycheck and bring your family to travel around the world?
What difference would an extra $$$$ a week make to your life?
Have you thought about you have enough money for bringing your kids to their dream schools?
Have you thought about having enough money for your parents to retire sooner?
Those will be your Dream if you NEVER action to aim for it! Life is about choices and actions!
Get To Know The Future Of Business:
Future Business Model - What is the Future Business Model that Alibaba's Jack Ma advocates.
Discover The Trends - What tools you can use to discover what are the current trends of the world.
Market Direction - What is Alibaba, Apple, Amazon, Facebook, and Google investing in?
Online Platform - Which Platform that is even more powerful than Amazon, eBay, and Shopify.
Biggest Niche Market - What niche to focus on when building your online business.
What is the skill and knowledge you need to know for your business startup?
What are the shortcuts, tricks, problems that all the social media is facing?
How to launch a profitable eCommerce Business in less than start 24 hours and generate Money immediately for 24/7.
How to succeed in Online Ecommerce with the guidance of a successful step by step mentorship with the proven system.
This is for you if you're looking:
1. To start an online business but is UNSURE how to proceed
2. To start your business riding on the latest TRENDS to maximize your returns with minimal effort
3. To sell GLOBALLY and reach out to the WORLDWIDE audience
4. To find a platform that makes setting up your online business EASY
5. To NOT keep stock and yet deliver worldwide
6. To run your business ANYWHERE so you have time to pursue your passion
7. To start your online business as SOON as possible, without having to build a website
Who Should Attend:
1.Traditional Business Owner
2.Entrepreneur
3.Self-employed
4.Stay at home mum/ Working Mum/ Single/ Part timer
5.Young driven adults who wanted to be successful under 30s/ 35s/ 40s
6.Retirees
7.Corporate Executive
The Speaker:
He was once a shy & Introvert school dropout without a diploma or a degree, and yet in his early 20's he manages to seal a multi-million dollar deal with supplying steel materials to the building of Malaysia Petronas Twin Tower.
Since then, he grew more confident and went on to become a property agent, generating a 1 million sales revenues as a rookies agent in his 1st month. With his creative marketing approach through his digital marketing skills, he went on to transact 100 million in properties in Singapore in his first year.
Realizing that the power of the internet and social media, started from scratch, he built an 80 million USD Online ECommerce business in over 60 countries and since then he has helped many to succeed in the process. Now he has 300 million in sales revenue throughout the 5 years in the business.
We do not like to waste each other time and effort. So if you are really keen to lead a better lifestyle, living your dreams. This is for YOU. Start by taking action NOW to achieve your DREAMS LIFESTYLE with YOUR'S VISION AND BELIEF.
Come on and join us in this amazing FREE online workshop to experience the revolutionary E-Commerce Business platform at NO COST!
RSVP early to secure your seat to avoid disappointment for those who truly want to create a better life for you and your loved ones.
Note: This is an ONLINE event. DO NOT COME TO THE VENUE.You will receive a confirmation message via WHATSAPP sms. Thank you and we hope you receive tonnes of value!
This is NOT for:
1. People who are looking for getting rich quick schemes
2. People who are not willing to invest in themselves
3. People who are having a negative mindset or lazy
4. People who want to do little or nothing and expect a result
#entrepreneur #startups #networking #workfromhome #passiveincome #extraincome #residualincome #sustainable #ecommerce #online #homepreneur #mummypreneur #daddypreneur #student #youngandfree #Future