Description
Join us May 23 at the Karl Strauss Brewing Company in Sorrento Valley to celebrate and learn from IABC/San Diego's 2018 Communicator of the Year (COTY) Margie Newman. The COTY recognizes a greater San Diego area-based leader who demonstrates strategic excellence in communication and serves as an outstanding example to others through his or her quality of work and contributions to the communications profession.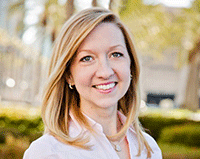 Margie is founding partner and managing director of Intesa Communications Group, a San Diego-based communications and government relations firm serving clients nationwide. She is known for her methodical planning, thoughtful work approach and contagious enthusiasm. Working closely with senior management and stakeholders at all levels, Margie is adept at building consensus, aligning an organization around a strategic vision, and preparing it to message it effectively.
Margie was named in 2008 among PR News' "Top 15 to Watch," a national award recognizing 15 of the country's most outstanding public relations professionals. She is a member of the YMCA of San Diego County board of directors, the LEAD San Diego board of directors (IMPACT '15 & INFLUENCE '17), and is member of the San Diego Regional Chamber of Commerce Public Policy committee. In 2016, Margie was recognized as one of San Diego's "40 under 40" by SDMETRO Magazine. Most recently, she was named among the San Diego Business Journal's 2017 "Business Women of the Year."
Attendees will have the opportunity to meet Margie, and hear more about the career accomplishments and challenges that led her to be recognized as 2018 IABC/San Diego COTY.
A two-course dinner, a flight of beer and unlimited soft drinks, tea or coffee are included in the price of your ticket.