Description
Learn Coding with Robots at RVC
47% of all jobs will be automated by 2034
Skilled Programmers will be in high demand!
Students & Teachers! Use code SCHOOL at checkout for $10 off ticket price!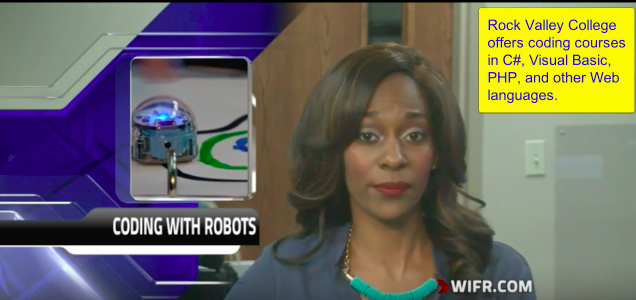 Click above image to play local news story by WIFR news!
Event Date: Saturday, March 25, 2017
Media Contact: Dave Costello, 815-921-4516
Event Contact: Professor Chuck Konkol
Event Website: rvchourofcode.com
The Rock Valley College Computers and Information Systems (CIS) department will host a "Learn Coding with Robots" workshop on Saturday, March 25, 2017, 10 a.m. to noon, in the Woodward Technology Center (WTC) on RVC's main campus (3301 North Mulford Rd.).
BUY TICKETS NOW: PRIOR "LEARN CODING WITH ROBOTS" WORKSHOPS SOLD OUT QUICKLY SO BUY YOUR TICKETS EARLY!

"Learn Coding with Robots" empowers children and adults to create adventures, play games, solve problems, and learn to code anywhere they go.
"This event is for all ages," says RVC Professor Chuck Konkol, workshop leader and CIS faculty. "I even encourage families to attend. If you or someone you know is interested in coding or robotics then register for this fun, engaging workshop. Oh, and you get to take home a robot to continue the fun!"
All attendees will take home award winning robot, named Ozobot.
Sneak Peek!
Click HERE and play an online game that uses drag and drop coding and simulates the Ozobot robot!
Purchase Tickets
$75 (Includes Ozobot robot and custom workshop binder)

Students & Teachers Use code SCHOOL for $10 off ticket price!

Parents and grandparents can purchase tickets for their child or grandchild and sit with them during workshop at no extra cost.
Please email Professor Konkol with any questions at c.konkol@rockvalleycollege.edu.
###