Event Information
Refund policy
Contact the organizer to request a refund.
Eventbrite's fee is nonrefundable.
We're never too young/old/unfit or uncoordinated to learn to dance. Discover the funky Cuban way of dancing salsa to lift your spirits!
About this event
It's never too late to learn to dance, especially through Cuban Salsa - one of the greatest dances that has quite literally taken the world by storm. Salsa originated in Cuba and has spread to the four corners of the globe, celebrating the beautiful rhythms and diverse cultures of Cuba. It's quite different than the ballroom salsa you see on TV shows, this dance is funky, fun, down-to-earth and inclusive of all ages, backgrounds and abilities - it can be as relaxed or as stylish as you want.
Every Friday night, we start the weekend with a fun-filled hour of energy and positivity - a chance to learn dancing in a fun and constructive way, so you'll be grooving with confidence in no time at all ...
WHAT WILL I LEARN IN CLASS?
The Beginners' Class warms up with Vivio's famous 'Follow Me' routine to a medley of Cuban music, incorporating moves from many of the great Cuban dances, including Salsa, Mambo, Chacha, Son, Rumba, Afro-Cuban orishas dances, Salsaton and more.
Next, you will learn the simple salsa combinations and styling - some are traditional, others are original compositions created by Vivio, Here, you will have the opportunity to change partners and experience the different styles and abilities of our students, encouraging greater learning and socialising.
The class finishes with another Follow Me, led by Vivio, where you have a chance to catch your breath and cool down, while learning yet more exciting dance moves.
WHO IS MY TEACHER?
Vivio is the only Cuban-trained salsa teacher in Auckland, having learnt his art at the famous national school of dance in Habana from age 11. After graduating, he danced, taught and choreographed his way around the world for 20 years, working with many famous dance companies before settling in Aotearoa nineteen years ago and starting The Cuban Groove. Vivio is supported by his partner Justine and other senior students, giving you additional experienced dancers with which to practice what you've learnt.
WHAT IF I'VE LEARNT SALSA FROM ANOTHER TEACHER OR A LONG TIME AGO?
If you are new to our dance school, we recommend that you join this beginners' class at 6.30pm to learn the basics of Cuban Salsa as well as Vivio's original moves and Cuban styling before stepping into the intermediate level at 7.30pm.
BAILAR ES VIVIR/LA VIDA ES UNA DANZA
Diversity is the essence of Cuban Salsa. At The Cuban Groove, we celebrate the diversity of our students who come from different ages and backgrounds, have various abilities, and either originate from New Zealand's various cultures or have settled in Aotearoa from numerous countries around the world. We hope you will join us on this exciting dance journey.
SOCIAL DANCING:
We also organise dance events, workshops and classes at other venues around New Zealand, so keep an eye out for our other activities by liking us on Facebook.
For more information, contact Vivio or Justine on The Cuban Groove's Facebook page.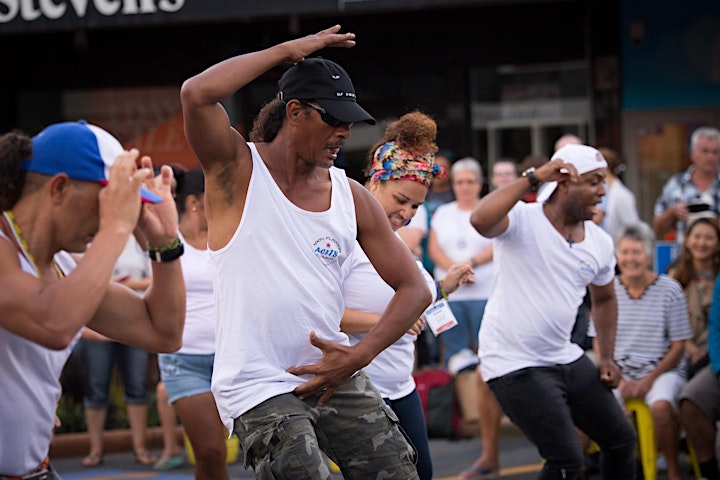 Date and time
Location
Refund policy
Contact the organizer to request a refund.
Eventbrite's fee is nonrefundable.
Organizer of Learn Beginners' Salsa - a fun-filled class with the Cuban maestro of dance