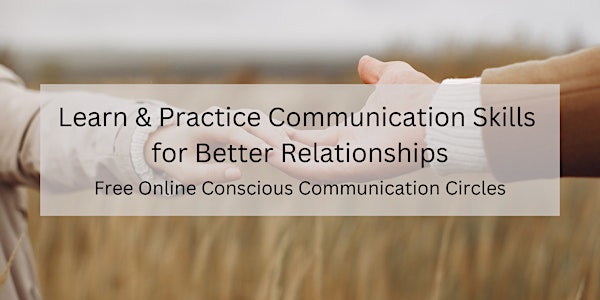 Learn and Practice Communication Skills for Better Relationships
Come practice creating deeper connection with others, sharing authentically and safely, replacing judgment with curiosity...
About this event
Would you like to...
✨ experience a deeper connection with other people?
✨ learn about being your authentic self and feeling great about it?
✨ experience being in a space where you can feel truly seen and heard without any kind of judgment?
✨ practice radical acceptance of your true self and of others, and to celebrate both our differences and our similarities?
👉 To claim your free ticket read this description through.
---------------------------------------------------------------------------------------------------
So many times we attend events to listen to others. But how many times do we go to an event to listen to ourselves?
At the Conscious Communication Circles people have the chance to:
👉 Speak and be truly heard, while practicing active listening and being fully present.
👉 Experience a safe space to go as deep as you want by answering the same two open questions that everyone else will also be asked.
👉 Explore a topic with a group of individuals, where everyone can verbalise their own thoughts in a safe space, while being witnessed by others who are also practicing being vulnerable, raw, authentic and non-judgemental.
Each Conscious Communication Circle is a unique experience.
🙏 It is an opportunity to learn about the complexity of the human experience of each person in the circle, at that moment. And it is a place to allow the voice from your heart to be heard.
🚫 This is not a space to perform.
🎭 Take off your mask, come as you are, and enjoy the journey. Your true self is mostly welcome here!
This is for you if you want to:
👍 Show up authentically and vulnerably in the presence of others.
👍 Learn communication tools and skills to use in daily life to improve your relationships.
This is not for you if you:
🚫 Want to discuss personal opinions.
🚫 Want to listen to give unsolicited advices.
🚫 Want to promote yourself, your business or your beliefs in any way.
---------------------------------------------------------------------------------------------------
🌺 Meet the Facilitator:
Joana is a Life & Relationship Coach passionate about her mission in supporting people improving relationships with others and with self.
She has more than ten years of experience in facilitating circles and in coaching. Her unique background is a blend of Authentic Relating, Conscious Communication, Phycological Behaviour of men and women in relationships, Buddhism, Yoga, Tantra, Mindfulness, Thetahealing, and Intuitive Energy Reading.
Her passion in creating genuine connections between people, and her insatiable curiosity about each person's unique stories, was what led her to create these circles.
---------------------------------------------------------------------------------------------------
F.A.Q. about these circles
❓ What happens if I arrive late?
I give a 5min window to be sure everyone enters the Zoom meeting. After that we will start and no one else will be allowed to enter the call.
❓Is this recorded? And is this confidential?
The Zoom meeting will not be recorded, and all that is shared in the circle, stays in the circle. However, if something amazing happens, people are allowed to share about it outside of the circle, but without sharing the identity of the participants.
❓Do I need to have my camera on?
As we are all showing up authentically, we ask that everyone turns on their video camera. It is important that everyone speaks from the same level of vulnerability.
❓Do I need to be on my computer?
Yes, please, we recommend to use your computer for a better experience of this circle. Make sure you are in a private and quiet space, where you can offer us your full presence.
---------------------------------------------------------------------------------------------------
👉 How to claim your free ticket:
Follow me on facebook: www.facebook.com/JoanaNevesLove
Or on Instagram: @joananeves.love www.instagram.com/joananeves.love
And send me a private message saying: "Circle of Trust"
✨Why I only give the ticket link in private messages?✨
I want to create a safe and vulnerable space for everyone coming to this circle, so they can experience transformation and growth. Therefore I want to filter out people with doubtful or fake profiles.
I also personally like to have a first contact with the people coming to my circle.
In the age of online events, there is a lot of de-personalisation going on, and because my mission is in supporting people in creating deeper connections, I want to start that journey with creating deeper connections with them.
I look forward to meeting you 🤗
With Love,
Joana💛
#CommunicateToCreate
#ConsciousCommunicationCircles