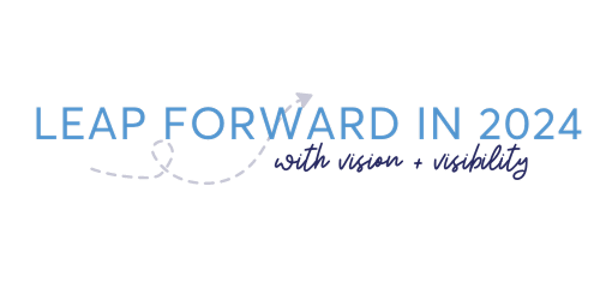 Leap Forward in 2024 with Vision + Visibility
This is the Summit for setting your vision + gaining visibility so you can take your business to the next level in 2024!
Date and time
Thursday, September 14 · 10am - 5pm EDT
Location
Gore Place, Carriage House 52 Gore Street Waltham, MA 02453
About this event
As a business owner, have you ever experienced the frustration of not seeing growth in your business until late into Q1?
Many business owners I've talked to this year expressed that same frustration. The reason for this is simple: lack of planning ahead. Q4 is a busy time with sales, specials, time out of the office, and more, leaving you no time to think, let alone plan for the upcoming year. Thus, when January comes knocking, many businesses do not have goals or a content plan, which can hinder growth.
Attending the Leap Forward in 2024 with Vision + Visibility Summit will change that!
It is the perfect time to prepare your business for January and the upcoming year. Think CEO Day but with business buddies, old + new.
At the Leap Forward in 2024 with Vision + Visibility Summit, you'll hear from half a dozen powerhouse speakers, have the opportunity to connect with other like-minded female business owners, and make history in a historical place.
This summit is designed to help you outline your 2024!
There will be time to define the goals that will make your vision happen, a plethora of ideas for reaching your ideal clients, including new ways to gain visibility for you and your business, and business buddies to level-set your big ideas and offer a new perspective. Don't worry; the workbook to jot all your ideas down is included.
HIGH-LEVEL FLOW FOR THE DAY:
• Check-In + Connections around the Beverage Bar
• Welcome + Commentary from Nichole Chapais, Owner, Stargazer Creative®
• Powerhouse Women Speaking about Vision + Visibility!
- Amy Pocsik, CEO, Women's Business League + Founder, Bold Moves
- Leanne Knight, Owner and Graphic Designer, Authentic Vision Media
- Kate Hollis, Conversion Copywriter, Kate Hollis Communications
- Jen O'Hare, CEO & Founder, Belle Box Co.
• Food + Fun:
- Lunch from Bocca Bella Cafe + Bistro
- Networking + New Connections
- Time for Photo Ops + Walks on the Beautiful Grounds of Gore Place
- Snacks + Special Treats
- A Workbook to Outline Your 2024 Vision + Visibility
So what are you waiting for? Don't miss this chance to gain new insights and find inspiration to make your business more successful in 2024.
Get your ticket now and join us for an unforgettable day. Together, we'll take the leap forward towards achieving our wildest dreams and setting ourselves up for success in 2024.