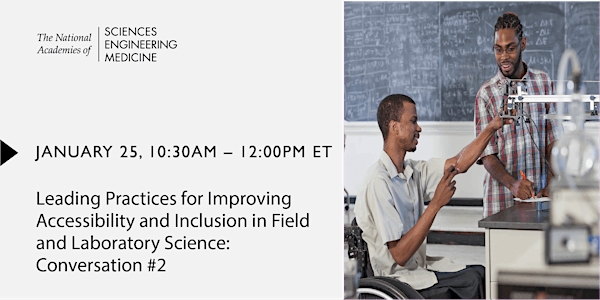 Leading Practices for Accessibility and Inclusion: Conversation 2
This Conversation Series is hosted by the National Academies of Science, Engineering and Medicine.
About this event
The second conversation in the series will focus on specific aspects of access and inclusion for laboratory-based research and education in STEMM, including best practices for establishing accessible and inclusive lab spaces. The event will bring together a group of scholars and leaders in the disability community in a live webcast conversation about these topics. Our speakers will discuss key questions for the community, including: what does universal design in a lab environment look like and what are the innovative tools being created to allow for more accessibility? How can people be proactive about establishing accessible and inclusive lab environments, including the infrastructure, tools, and cultural changes to support these shifts?
We enthusiastically encourage the public to share perspectives and to participate in the discussion. Prior to the conversation, we will share a pre-recorded keynote presentation to set the stage for the discussion. The event will be webcasted with opportunities for viewers to submit questions via a live chat.
A live transcriptionist and ASL interpreter will be present at every conversation. Additional requests for accommodations can be submitted during registration until January 18th, 2022.
For more information on this series can be found here.
This event will be available for viewing and participation through Slido here.
Contact Us
If you would like to sign up for this projects mailing list, please use the "subscribe" button on the right hand side of the project webpage or email Clara Phipps at cphipps@nas.edu.
Organizer of Leading Practices for Accessibility and Inclusion: Conversation 2
The National Academies of Sciences, Engineering, and Medicine are private, nonprofit institutions that provide expert advice on some of the most pressing challenges facing the nation and the world. Our work helps shape sound policies, inform public opinion, and advance the pursuit of science, engineering, and medicine.