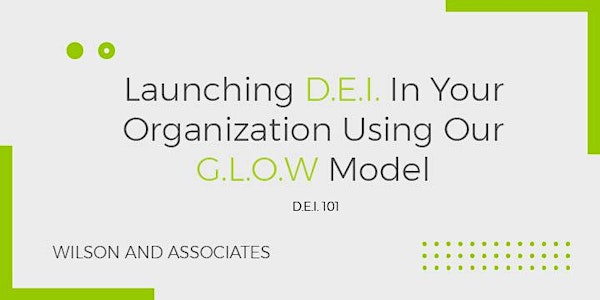 Launching D.E.I. In Your Organization: Using our G.L.O.W. model
Sales Have Ended
Ticket sales have ended
Thanks for registering for the training session! Have questions about the event? Email us at hello@wilson-and-associates.com
Looking for a roadmap to help chart your organization's path towards diversity, equity, inclusion and belonging?
About this event
Workshop Description
Many organizations are in the process of launching Diversity, Equity and Inclusion (and anti-racism) initiatives in their organizations, and have yet to pause to ask questions such as:
What does it mean for your organization to be "ready" to successfully launch and implement a DEI/A effort?
What are the questions that you should be asking as you launch a DEI/A initiative?
What is the important distinction between the terms/concepts of diversity, equity, inclusion?
In this workshop, we begin to explore these questions, how you can create the space within your organizations to discuss these questions, and most of all, why these questions must be answered BEFORE a DEI/A initiative is launched.
This virtual workshop provides a great introduction for anyone looking to launch a Diversity, Equity and Inclusion within their organization and is curious about how to start.
In this training, you will:
Connect your personal identity and culture to DEI efforts
Build a literacy around DEI terminology
Learn our trademarked G.L.O.W model, which is a 4-part framework for implementing a DEI effort.
Have an opportunity to ask questions and get real-time coaching from Wilson and Associates' President and Senior Consultant.
Workshop Format
This workshop will be delivered in a live, 2-hour interactive session conducted online in Zoom. Participants will engage in 1.5 hours of content and peer learning with each other and 30-minutes of Q&A and real-time coaching with Chrysta Wilson, lead trainer of the Wilson and Associates team.
Our workshops are designed to be engaging and foster connection, unlike a more one-directional webinar format. We engage all of the senses and cater to multiple learning styles. We also believe in engaging the whole body and schedule screen and stretch breaks into the session.
Registration Process
Upon registration, you will receive a Zoom link and prior to the meeting.
Participation & Recording
Our sessions are designed as true learning communities. While the spaces are designed to raise awareness and share information, we believe that participants contributing to the learning even though they come to the sessions to learn.
As a result, we invite participates to engage all the senses, participate in session activities, and interact with others in the session.
We're mindful that the training will take place during this global pandemic where most participants will still be joining from their homes where we're all juggling the work and life responsibilities and demands.
We are mindful that there may be times where participants may be distracted and can't be fully engaged, and we hold empathy and understanding for that.
That said, to protect the safe space and confidentiality of all participants, we do not provide recordings of our sessions.
Cancellations, Refunds, Credits and Transfers
Transfer: If you cannot attend the training, you may send someone in your place. We allow registration to be transferred to a different attendee up to 5 days prior to the training session. To request a registration transfer, email hello@wilson-and-associates.com
Credit: If you cannot attend a training that you have registered for, you have 5 days from the training date to email us at hello@wilson-and-associates.com and request a credit for a future offering of the same training.
Refunds: No refunds are made for our trainings.