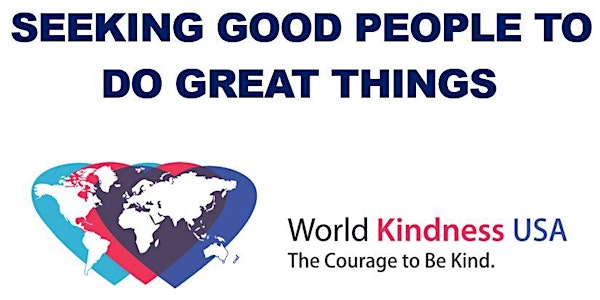 Launch World Kindness USA
Location
Thunder Studios
20434 South Santa Fe Avenue
Long Beach, CA 90810
Join us for this moment in history as we officially launch World Kindness USA for our Founding Members & Guests.
About this event
We are pleased to invite you to join us for the launch of "World Kindness USA" as the country's peak national kindness body, providing a national platform for collaboration based on a foundation of kindness. Note This is Not a Fundraiser. The event will be an opportunity to meet agents for positive change from across the nation and indeed the world where the Declaration of Support for a kinder world (intended for the US Congress, Senate and the United Nations),will be signed.
Guests will hear from a cross section of leaders representing each sector who will share their stories and strategies on how a kinder world can be realised in our lifetime. The event, courtesy of Thunder Studios, will provide an overview on how we roll out a national campaign to engage business, cities, government departments, education bodies, non profits and people of influence to bridge the divide through embracing the courage to be kind.
Guests are invited to "A Conversation In Kindness." exploring the
"Barriers to Kindness In The USA".
This is not a debate, it's a reflection on the state of play, not just in the political arena but across the nation, asking:
Has Kindness gone MIA?
Do We Seek The Lesser of Two Evils Rather than The Kinder Option?
How Can We Bridge the Nation's Great Divide?
What Business Does Kindness Have In Business?
Does Media Create or Feed Our Appetite to be Unkind?
World Kindness USA is "Seeking Good People to Do Great Things" from within all sectors of our communities to influence those with influence from our classrooms to our staff room and from our board rooms to those residing in our corridors of government.
Our guest speaker is the immediate past Secretary General to the peak global body, The World Kindness Movement, Mr Michael Lloyd-White, recipient of Australia's 2018 Most Inspiring Man Award (previous recipients include Australia's Deputy Prime Minister & Minister of Foreign Affairs) Michael delivered the Australian Prime Minister's Message in Seoul when only a few miles away North Korea gave a nuclear response to the threat of "Fire & Fury.
What Has A Global Campaign of Fear & Hate Taught Us?
Learn how Businesses, Schools, City Councils, Community Groups and Government Departments are being asked to meet the KPIs (Kindness Performance Indicators) and adopt a Kindness Clause into their constitution and Workplace agreements. Michael will engage you in powerful true accounts on the courage of kindness whilst providing thought provoking conversations posing ambitious ideas compelling us to dig a little deeper. Michael will not only leave you with a sense of hope, he will leave you with the knowledge and the "Tools of Engagement" on how we can create a kinder world in our lifetime.
Join us for the finest selection of canapes & beverages are on offer courtesy of our gracious host Thunder Studios on what promises to be night where we focus on the content of the message rather than the label of the Messenger.
Schedule
5:30pm Register
5.45pm Introduction by special guest Master of Ceremonies
Welcome Reception Founding Members & Invited Guests.
6.00pm Keynote Removing The Myths of Kindness, Mr Michael Lloyd-White.
6.30pm Entertainment Special Guest Artists.
7.00 pm Q&A Panel Discussion: A Conversation In Kindness.
8.00pm Presentation Introducing Founding Members.
8.15pm Signing Ceremony for a Declaration of Support.
8.30pm Launch "World Kindness Cards" announce Door Prizes.
8.45 Group Photo / Guest interviews
9.00pm Concludes.