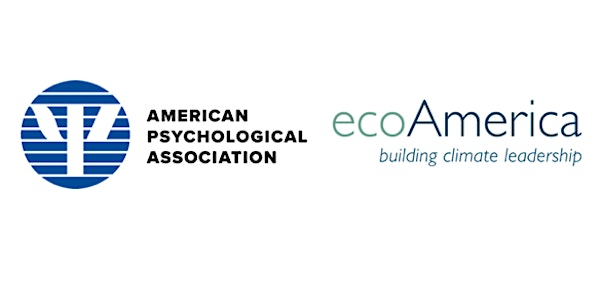 LAUNCH of the Mental Health and Our Changing Climate 2021 Report
Join APA and ecoAmerica for the launch of their Mental Health and Our Changing Climate report, 2021 edition.
About this event
The American Psychological Association and ecoAmerica are pleased to present Mental Health and Our Changing Climate, a new report that chronicles the impacts of climate change on Americans' mental health and psychological well-being and includes guidance and resources to act and advocate. The report builds on the celebrated 2017 edition to include the latest research on the topic, with new sections on populations disproportionately impacted, climate anxiety, and the spectrum of solutions. Join us on November 4 from 2:00 - 3:00 pm ET to hear the major findings of this report from the authors and to preview the action steps for communities, individuals, practitioners, and policymakers.
Closed captioning will be provided.
Speakers will include:
Welcome & Introduction
Rebecca Rehr, MPH, Director, Climate for Health
Howard Kurtzman, PhD, Senior Science Advisor, American Psychological Association
Key Findings from the Report
Susan Clayton, PhD, Whitmore-Williams Professor of Psychology, College of Wooster
Christie Manning, PhD, Director of Sustainability and Assistant Professor Environmental Studies, Macalester College
Meighen Speiser, Executive Director, ecoAmerica
Reflections from the Field
Derrick Sebree Jr., PsyD, Michigan School of Psychology
Sasha Lewis-Norelle, Core Organizer for Sunrise Saint Paul, Leadership Circle member for MN350's Pipeline Resistance Team, and Environmental Health and Justice Organizer for Clean Water Action Minnesota