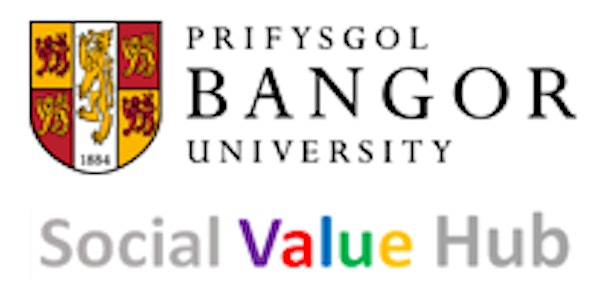 Launch of Bangor University's Social Value Hub
When and where
Location
Reichel Hall Ffriddoedd Site Bangor University Bangor LL57 2TW United Kingdom
Description
Bangor University to launch new Social Value Hub
On Tuesday 11 June, the Centre for Health Economics and Medicines Evaluation (CHEME) within the School of Health Sciences at Bangor University will launch a new Social Value Hub.
The launch of the Social Value Hub comes in response to a growing demand for accountability in public and third sector organisations, and the need for funded programmes to demonstrate 'evidence of social impact'.
The Hub's purpose will be to offer support and training to local and regional organisations, enabling them to measure and communicate the positive changes they create in their communities.
The launch will take place on Tuesday 11th June, 10 am to 1 pm, at the Reichel Conference Centre at Bangor University.
This event will outline the upcoming work of the Social Value Hub and launch a partnership with BCUHB's 'Well North Wales' project.
Featured speakers include:
Professor Rhiannon Tudor Edwards, Co-Director, CHEME, Bangor University
Teresa Owen, Executive Director of Public Health, BCUHB
Ben Carpenter, CEO, Social Value UK
Eleri Lloyd, Social Value Manager, Mantell Gwynedd
Glynne Roberts, Director, Well North Wales
Professor Chris Burton, Head of School, Health Sciences, Bangor University
The event will include attendees from universities, the third sector, health boards, county councils, social prescribing and social value networks. The general public is welcome to attend.
Refreshments and lunch provided.
This event is funded by the Bangor University ESRC Impact Acceleration Account (IAA).
Prifysgol Bangor yn lansio Canolfan Gwerth Cymdeithasol newydd
Dydd Mawrth, 11 Mehefin, bydd Canolfan Economeg Iechyd a Gwerthuso Meddyginiaethau (CHEME) yr Ysgol Gwyddorau Iechyd ym Mhrifysgol Bangor yn lansio Canolfan Gwerth Cymdeithasol newydd.
Daw lansiad y Ganolfan Gwerth Cymdeithasol mewn ymateb i'r galw cynyddol am atebolrwydd mewn sefydliadau cyhoeddus a thrydydd sector, a'r angen am raglenni a ariennir i ddangos 'tystiolaeth o effaith gymdeithasol'.
Diben y Ganolfan fydd cynnig cefnogaeth a hyfforddiant i sefydliadau lleol a rhanbarthol, gan eu galluogi i fesur a chyfathrebu'r newidiadau cadarnhaol y maent yn eu creu yn eu cymunedau.
Cynhelir y lansiad ddydd Mawrth 11 Mehefin, 10am tan 1pm, yng Nghanolfan Gynadledd Reichel ym Mhrifysgol Bangor.
Bydd y digwyddiad hwn yn amlinellu gwaith y Ganolfan Gwerth Cymdeithasol sydd ar y gweill, ac yn lansio partneriaeth gyda phroject 'Gogledd Cymru Well/Well North Wales' Bwrdd Iechyd Prifysgol Betsi Cadwaladr.
Mae'r siaradwyr gwadd yn cynnwys:
Yr Athro Rhiannon Tudor Edwards, Cyd-gyfarwyddwr, Canolfan Economeg Iechyd a Gwerthuso Meddyginiaethau, Prifysgol Bangor

Teresa Owen, Cyfarwyddwr Gweithredol Iechyd y Cyhoedd, Bwrdd Iechyd Prifysgol Betsi Cadwaladr

Ben Carpenter, Prif Swyddog Gweithredol, Social Value UK

Eleri Lloyd, Rheolwr Gwerth Cymdeithasol, Mantell Gwynedd

Glynne Roberts, Cyfarwyddwr, Gogledd Cymru Well/Well North Wales

Yr Athro Chris Burton, Pennaeth Ysgol, Gwyddorau Iechyd, Prifysgol Bangor
Bydd y digwyddiad yn cynnwys cyfranogwyr o brifysgolion, y trydydd sector, byrddau iechyd, cynghorau sir, rhwydweithiau presgripsiwn cymdeithasol a gwerth cymdeithasol. Mae croeso i'r cyhoedd ddod i'r lansiad hefyd.
Darperir lluniaeth a chinio.
Ariennir y digwyddiad hwn yn rhannol gan Gyfrif Cyflymu Effaith ESRC Prifysgol Bangor.