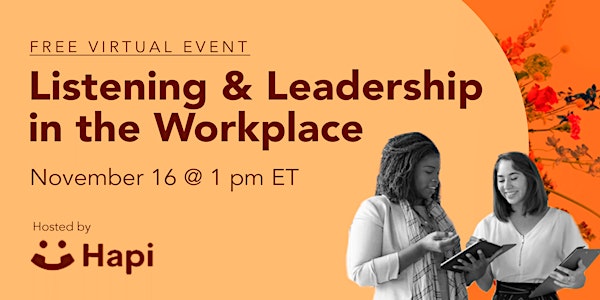 Launch Event: Listening & Leadership in the Workplace
Join us as we celebrate the launch of the Atlantic Listening Academy (ALA), brought to you by Hapi Technologies, Inc.
About this event
Join us November 16th at 1pm ET as we celebrate the launch of the Atlantic Listening Academy (ALA), brought to you by Hapi, the emotional support platform that provides anonymous audio-only Active Listening as a Service (ALaaS).
The ALA offers a new and innovative approach to training all members of your organization in the art and science of active listening, which is imperative in today's business environment. This proven methodology combines emotional intelligence and active listening skills that lead to better negotiations, more deals, and increased revenue.
We are bringing together progressive leaders to talk about the importance of listening to your teams (internal & external), customers and shareholders.
You cannot survive in today's competitive environment without active listening. Here's why…
It grows your business
Retains your employees
Turns your team into listening leaders
Enhances trust in the workplace
Increases customer intimacy
Supports the social responsibility (ESG) of your organization
Enables your team members to become  better corporate citizens
Our listening leaders will share their expertise. We'll hear from…
HOSTS
Adi Y. Segal, CEO, Hapi Technologies, Inc.
Ben Chodor, Board member Notified, founder of Stream57 and Happtique and Author.
PANEL
TED-STYLE TALK
Prof. Avi Kluger, the world's leading expert on listening in the workplace
LIVE DEMONSTRATION OF THE ART AND SCIENCE OF LISTENING
Prof. Avi Kluger will utilize his techniques from two decades of research to show with an audience volunteer how a trained listener can open up a conversation and deepen connection in 10 minutes or less.
FIRESIDE CHAT
Josh Drean, Web 3.0 advisor at Harvard Innovation Labs, Core Contributor at SoWork, the Workplace Metaverse, and Co-founder of DreanMedia
-----------------------------------------------------------------
For those interested in getting a better taste of the new Atlantic Listening Academy, Hapi is offering a free Immersive Listener Training with the world's leading expert, Professor Avi Kluger, at 9am ET on Wed. REGISTER HERE