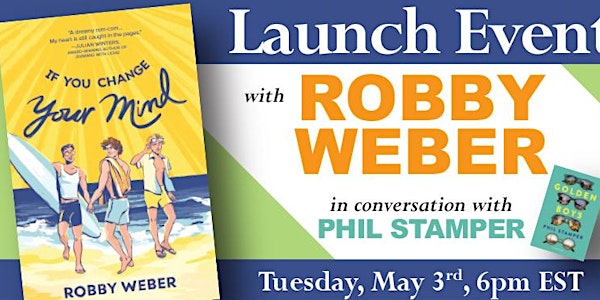 Launch Event for If You Change Your Mind by ROBBY WEBER
Join Books of Wonder and ROBBY WEBER as we celebrate the release of his YA novel, IF YOU CHANGE YOUR MIND!
When and where
Location
Books of Wonder 42 West 17th Street New York, NY 10011
About this event
Tuesday, May 3 at 6:00PM ET
Join us at Books of Wonder for an in-person event with author Robby Weber in conversation with Phil Stamper celebrating the release of IF YOU CHANGE YOUR MIND!
Cute Boys, Classic Rom-Com Romance, and the Summer of a Lifetime!
As the weather warms up and the day get even longer, it's the perfect time to find your next beach/park bench/picnic blanket/overheated subway train read! And what could be better than a swoon-worthy summer romance full of Hollywood sparkle?
In ROBBY WEBER's latest YA hit, If You Change Your Mind, aspiring screenwriter Harry is determined to spend his summer ignoring distractions (read: boys), and finishing up a script for a big competition that he just knows will get him into the college of his dreams.
Except then he meets the beyond adorable Logan, who's visiting Harry's small Florida beach town for the summer. And then Grant, Harry's ex, comes back to town and he's just as charming as ever. And suddenly a simple summer full of writing seems like it might not be possible after all...
If You Change Your Mind draws on the perfect mix of classic rom-com vibes and modern-day romance to create an absolutely unforgettable and adorable summer read.
Don't miss this fantastic launch event with author ROBBY WEBER, who'll be in conversation with PHIL STAMPER, author of another fabulous summer read: Golden Boys!
Tuesday, May 3rd at 6:00pm EST at our 17th Street store!
WHAT YOU NEED TO KNOW TO JOIN US:
We recommend RSVPing to attend! RSVPing here guarantees entry for the event. Each RSVP includes admission for one adult.
Please note that there will only be limited spots available. Guests who have RSVPed must arrive by 6:10PM in order to claim their spot. After that time, the reserved seat will become available to walk-up guests.
All attendees over the age of 5 must bring proof of vaccination or a negative COVID test from within the last 24 hours. We will be checking!
All attendees over the age of 2 will need to wear a mask while in the store, as per NYC guidelines for live indoor events.
Remember: if you are not feeling well please do not attend this event!
If you have any questions about the event or any of these guidelines please be sure to reach out to us at customerservice@booksofwonder.com.
*One book may be brought from home to be signed for every book purchased at the event.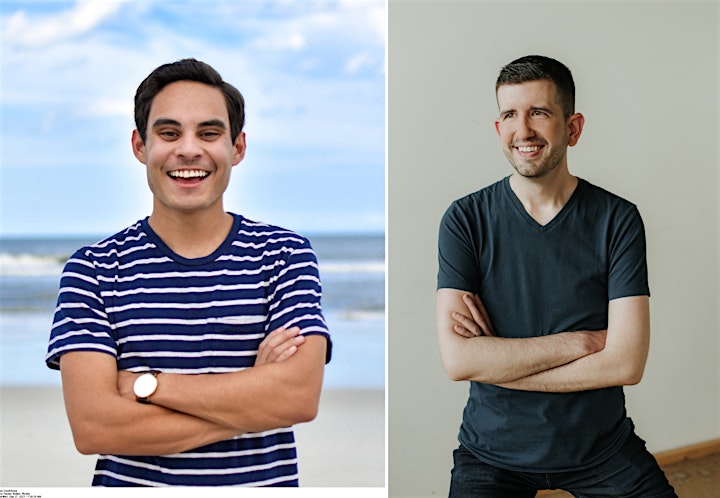 ABOUT THE AUTHORS:
Robby Weber is a Florida-based writer who loves sunshine, summer and strong-willed characters. He can normally be found as close to the ocean as possible with his dog, Arthur, and a novel from Reese's Book Club.
Phil Stamper is the bestselling author of The Gravity of Us and As Far As You'll Take Me. Hisstoriesare packed with queer joy, and his characters are often too ambitious for their own good. Born and raised in a rural village near Dayton, Ohio, he now lives in New York Citywith his husband and their dog. Golden Boyscomes out in February 2022, with an untitled sequel to follow.