Strengthening the Empowerment of Hispanic Women
About this event
Latina Summit 2021
SAVE THE DATE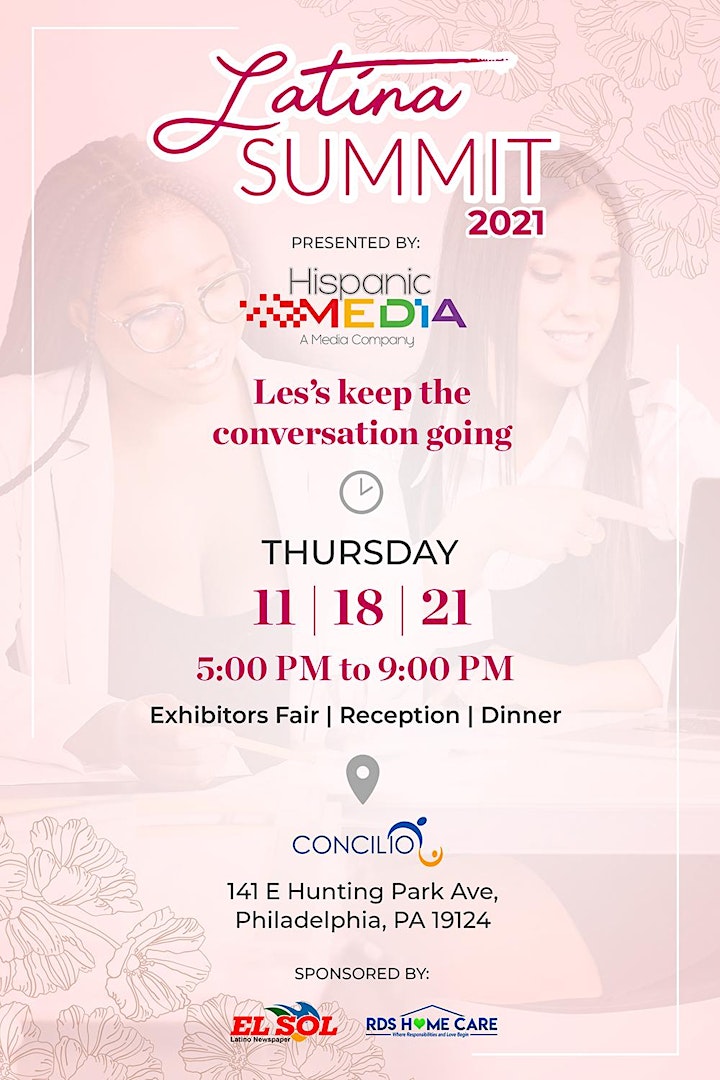 Hour the fifth consecutive year, Hispanic Media is preparing the event dedicated to Latina women for their empowerment. The 2021 edition of Latinas Summit returns to the face-to-face modality and you are our most important guest.
Let's keep the conversation going. This is the slogan of the event and the four conferences this year on Covid 19, The Opioid Crisis, Open Enrollment and Business & Coaching, that will be developed by distinguished panelists.
The appointment is this November 11th, starting at 5:00 p.m (ET) at the headquarters of El Concilio, located at 141 E. Hunting Park Ave, Philadelphia, PA 19124. The admission is free.
Latinas Summit 2021 is the quintessential event that honors the influence of Hispanic women and raises awareness about health and a healthier lifestyle.
Book your attendance now!
Seminars:
💠 #Health | Covid-19
💠 #Entrepreneurship | Open Enrollment
💠 #Wellness | The Opioid Crisis
💠 #Empowerment | Business & Coaching
Recreational activities:
💠 Goya Food Inc. products
💠 Covid-19 tests at no cost
Join us!
📅 November 18th
🕙 From 5:00 p.m. to 9:00 p.m
📍 At the headquarters of El Concilio
Admission - FREE!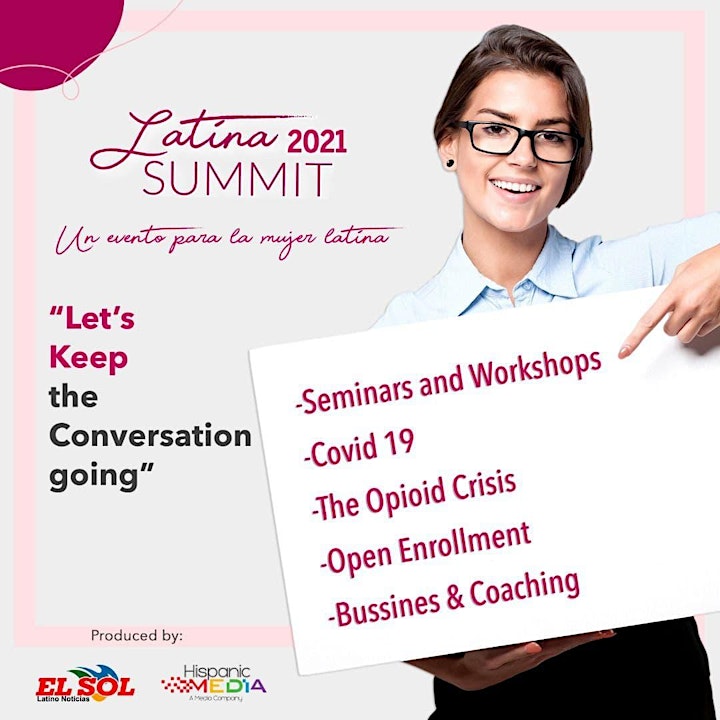 Organizer of Latina Summit 2021
For more than 29 years, El Sol Latino Newspaper & Hispanic Media has been a media leader. Adapting to the changing media market, Hispanic Media has transformed itself from a small local newspaper into a multimedia news and information source that includes a network of websites, niche publications, custom printing, e-newsletters, social media networking, and events and customized content to meet the specific needs of its readers and advertisers.
Hispanic Media LLC is a communications company that offers various advertising services in digital, print and experiential marketing campaigns. The company has more than 29 years in media. It is based in Miami and in Philadelphia, PA. It is the publishing house of El Sol Latino Newspaper, Latinas Life Style, ESTYLO Magazine & Latino Connections Series with a view to becoming a hallmark of distinction in the communications market.