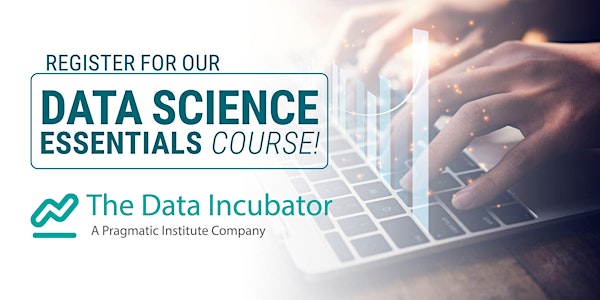 Late Fall 2022 Data Science Essentials Program
Join The Data Incubator for an instructor-led online class that teaches the essentials of data science.
About this event
Join The Data Incubator for an instructor-led online class that teaches the essentials of data science. This part-time course is geared towards giving working professionals with no previous data science experience an immersive, hands-on experience with foundational data science techniques.
Successfully complete Data Science Essentials and you'll automatically earn admission into the next TDI Fellowship cohort - and we'll take the price you paid off of your tuition (only eligible for up front payments)!
The deadline to register is 11:59 PM ET on 10/31/22.
Classes will be held from 7:00 - 9:00 PM ET (4:00 - 6:00 PM PT) on Mondays and Wednesdays. Classes will be held on the following 16 days: 11/7, 11/9, 11/14, 11/16, 11/21, 11/28, 11/30, 12/5, 12/7, 12/12, 12/14, 12/19, 12/21, 1/4, 1/9 and 1/11
Course Content
Prerequisites:
• Elementary programming knowledge
• Familiarity with statistics
This course is for you if:
• You are interested in the field of data science and want to learn essential data science skills
• You are new to Python or are self-taught and you're looking for a more robust, structured learning program
• You're a Data Analyst, Economist, or Researcher who works with large datasets and wants to make analysis easier and more effective with Python and Machine Learning
• You're a Software or Data Engineer interested in learning the fundamentals of quantitative analysis
• You're interested in applying to TDI's Data Science Fellowship
Upon completion of this course, you will be able to:
• Extract, clean, and analyze data using Python
• Leverage Python's powerful libraries to build predictive models to make better decisions
• Understand relational databases and train Machine Learning models
• Help your employer solve business problems using data-driven insights
• You can always find out more information on our website: https://www.thedataincubator.com/data-science-essentials.html
FAQs
What is the refund policy?
Unfortunately, there are no refunds available.