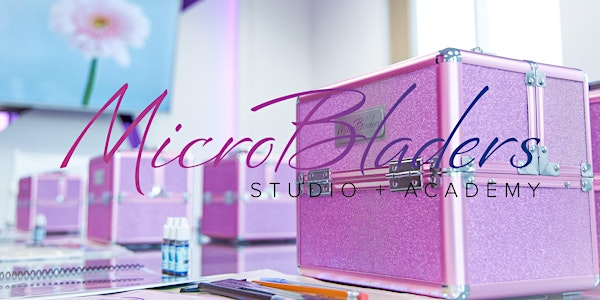 Las Vegas Microblading Training & Certification Course w/Intro to Manual Shading - 2-Day 9am -2pm | $200 deposit locks your spot
2-Day Las Vegas Microblading Fundamentals + Manual Shading Training and Certification Course
When and where
Location
MicroBladers Studio + Academy 6725 South Eastern Ave. Ste. 6 Las Vegas, NV 89119
About this event
Join The Beauty Revolution - Become A Professionally Trained Microblading Artist Today! Make Your Own Hours & Become Your Own Boss - Start Making $50,000 - $80,000 Or More A Year. Questions? Call/text Danielle at 702-500-0057 or visit www.Microbladers.com /(become a microblading artist) Microblading Training in Las Vegas
Subject: 2-Day Las Vegas Microblading Fundamentals + Manual Shading (microshading) Training and Certification Course w/Optional Machine Shading Add-on
Master the basics of microblading and manual microshading to get ahead of other beginner artists by offering your clients both techniques. Our MicroBladers' Microblading Fundamentals + Manual Shading Course will take place in two consecutive training days. Day-1 consist of required online homework to be completed prior to Day-2 of person classroom time, approx. 9am to 4pm.
By mastering these two manual techniques, you will have a more diversified client pool by offering more services and increase your potential income.  
Course Price: $2200 **Microblading w/Intro to Manual Shading ONLY**
Add Machine Shading +$800 (Optional)
Deposit Required: $250
Training Location: MicroBladers Studio + Academy (Las Vegas, NV) 
Classroom Hours: 9am – 4pm (Light snacks and refreshments provided) 
Course Description: 
By taking our Las Vegas MicroBladers' 2-Day Microblading Fundamentals + Manual Microshading, you will have a solid foundation of modern semi-permanent cosmetics and gain knowledge to an additional, higher-level skill. This package will equip you with vital skills which will help you advance and grow your permanent makeup career in the future.
The course will cover all basic fundamentals of microblading and microshading, from color theory to practical applications, developed by none other than MicroBladers Founder and Master Artist, Danielle Greisen. Our comprehensive course, which includes the shading introduction cannot be found elsewhere, outside of the MicroBladers training courses. It is designed with an easy-to-follow structure to quickly get your hands comfortable with your tools.
What is Microblading?
Microblading is the most popular semi-permanent makeup enhancement in which, the microblading artist manually inserts pigment into the upper layers of the skin. This manual process allows you to create the perfect shape and desired fullness on the brows of your clients. The results look stunningly natural because you will recreate your client's natural hair growth pattern and they will undoubtedly love it!
Depending on the client's lifestyle, effects can last up to +/- 12 months, after which, the brows can potentially fade. An initial touch up session is recommended after 4-6 weeks, then every 8-10 months which gives you a guaranteed continuous income if they adhere to the maintenance schedule. Cost of services usually start at $100-$250 per hour, with the typical microblading procedure lasting anywhere from 2 to 2.5 hours.
What is Microshading?
Microshading has become increasingly popular over the years because it caters to a more diverse clientele. Instead of hair strokes, you will be creating repetitive dots of pigment, called stippling, which makes the pigment yield easier on oilier skin. This makes it a perfect alternative to those who are not good candidates for microblading and those who have sensitive skin. The method uses either a manual hand tool or an advanced electric rotary tool. This course covers the introduction of manual microshading and should not be interpreted as machine microshading. During this course, students will be shown manual beginner techniques in microshading in addition to microblading fundamentals.
How much can I earn doing both techniques, Microblading and Microshading?
Microblading artists charge anywhere from $100 to $250 per hour for microblading or microshading, or a combination of both services. Factors such as your experience and location will determine how much you can start charging your clients. Even if you start at just $100 per hour, having one client a day for 5 days will earn you $1,250 a week!
Many of our new students who have taken our MicroBladers' 6-Month Apprenticeship Training Program post receiving their training and certification through MicroBladers are already making well over $1,000 or more a week - some even more! That is an incredibly great start for any new artist, and all of us here at MicroBladers are proud of it and for those artists.
See our students in action on Instagram @microbladers 
Class Overview:
A deposit of $250 is due via Eventbrite at the time of registration to lock your spot, and the balance will be due the first day before start of class.
We limit the classroom environment to (6) students to ensure that everyone is grasping the concept and getting the attention that they deserve. Students will receive a MicroBladers' Microblading + Microshading Certificate of Completion. Certificates will be mailed to any student who is accepted after the cutoff date specified.
Any questions, please do not hesitate to call/text Danielle at (702) 200-2820 or hello@microbladers.com or visit us at https://microbladers.com/microblading-training/microblading-training-course-2-day/
Included in the Course:
Professional MicroBladers Training Kit
Artist Training Manual
Theory Review
Laws, Rules & Regulations (Las Vegas, NV)
Face Symmetry
Framing & Brow Mapping
Ethnicities & Skin Types
Student Procedure Simulation
Color Theory (what pigments to choose for different undertones)
Needle Types & Suggested Uses 
Practical Application and Preparation
Topical Anesthetics
Safety and Sanitization
Client Consultation and Consent Forms
Aftercare Instructions
Post Treatment & Complications 
Depth and Stroke Practice using Synthetic Skin
Certificate of Completion on Microblading + Manual Microshading
It is Student's responsibility to investigate all licensing, apprenticeship, insurance and other state and local requirements for the practice of permanent cosmetics in the area in which he or she intends to work.
$250 ticket purchase is deposit only and required to lock in your spot. Classrooms are limited to 6 students to ensure a proper training environment. Training and practice materials plus microblading kit included. Total class cost $2200. Remaining balance required on first day before class starts. This is a training certification course. Please visit www.microbladers.com for additional information on becoming certified in advanced machine shading.  
©2019 MicroBladers, LLC. The material provided in this Eventbrite listing is protected by U.S. copyright laws. Reproduction and distribution of the Eventbrite or any materials within it without written permission of the owner is strictly prohibited and may result in legal action.