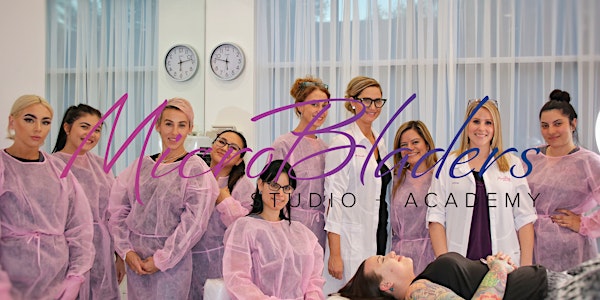 Las Vegas Microblading + Machine Shading Training & Certification Course
Microblading + Manual/Machine Shading w/Combo Brows Training & Certification w/Live Model Demonstration
When and where
Location
MicroBladers Studio + Academy 6725 South Eastern Ave. Ste. 6 Las Vegas, NV 89119
About this event
Join The Beauty Revolution - Become A Professionally Trained Microblading Artist Today! Make Your Own Hours & Become Your Own Boss - Start Making $50,000 - $80,000 Or More A Year. Questions? Call/text Danielle at 702-500-0057 or visit www.Microbladers.com /(become a microblading artist) Microblading Training in Las Vegas
Subject: 3-Day Microblading + Manual/Machine Shading w/Combo Brows Training & Certification Course w/Live Demo
Master the basics of microblading + manual/machine shading + combo brow technique to get ahead of other beginner artists by offering your clients both techniques. Our MicroBladers' Microblading Fundamentals + Manual + Machine Shading Course will take place in three consecutive days.
By mastering these two manual/machine techniques, you will have a more diversified client pool by offering more services and increase your potential income.  
Course Price: $3000 **Microblading + Machine Shading ONLY**
Course Price + 6-Month Apprenticeship Price: $3500 + $667 per month for 3 months (includes in-house financing at 2.13% interest - no credit check required)
Deposit Required: $250
Training Location: MicroBladers Studio + Academy (Las Vegas, NV) 
Classroom Hours:
Day-1) Online Fundamentals Learning
Day-1) 9AM- 4PM (Microblading)
Day-2) 9AM - 5PM (Machine Shading & Clinical w/ Live Model Demonstration) 
Lunch will be provided. Must register via Eventbrite to secure your spot.
Course Description:
MicroBladers Founder & Master Artist, Danielle Greisen will teach you the ins and outs of this extremely popular and profitable procedure known as brow microblading + shading. The course is designed in easy to follow stages. Covering all aspects, such as the theory behind the art of microblading, to how to use your tools correctly, and lastly, the technical elements and practical skills that you will perfect with practice. The content included in our MicroBladers course is the basic to advanced technique that Danielle teaches, and will not be found elsewhere outside of the MicroBladers training courses. You will learn the fundamental basics of microblading in addition to microshading. Students attending will experience the viewing of a live model demonstration. 
What is Microblading?
Microblading is a technique and application of semi-permanent make-up, where through a manual process of inserting pigment into the upper layers of skin, a microblading artist can create the desired fullness and shape of the eyebrow for any client. The effects last up to 12 months after which the pigment fades leaving the skin and your natural brows exactly as they were. Results looks natural and flawless as hair effect is recreated on skin. 6-8 weeks following the initial procedure, clients are scheduled for a perfecting touch up. Services usually begin at $165 an hour with a typical microblading + microshading procedure lasting 2.5 - 3 hours.
What is Microshading?
Microshading, also known as ombré or instagram brows and is a perfect treatment for people with sensitive and oily skin. This technique is similar to microblading, but it gives eyebrows fuller and softer effect. Clients may want to choose this technique over microblading if they prefer a powdered effect instead of defined hair stroke effect. This procedure is done using an electric machine or hand tool with specific needles which inserts pigment into the dermis and gives it an effect of a powder filled eyebrows.
How much can I earn as a Artist?
Artist are charging anywhere from $100-$300 "per hour" for microblading/shading services. Experience and location plays a factor, however if you begin charging $100 an hour, and let's say you have 1 client per day 5 days a week, that's $1250/week as new artist starting out.
Class Overview:
It is Student's responsibility to investigate all licensing, insurance and other state and local requirements for the practice of permanent cosmetics in the area in which he or she intends to work. Current Blood Borne Pathogen (BBP) Certificate required to participate in training with live models. Training is held in Las Vegas, NV at MicroBladers Studio + Academy. 
Deposit of $250 is due at the time of registration to lock your spot, and $3,000 will be due on or before the first day of class. This will be a small class to ensure that everyone is grasping the concept and getting the attention that they deserve. Day 1 will begin with online fundamentals learning which will be followed by in-person classroom hours on Day 2 from approximately 9AM - 4PM and Day 3 from approximately 9AM - 5PM. Lunch will be provided each in-person classroom day (please inform instructor of any special diets or allergies). Students will receive a Certificate of Completion in the basic application of both microblading and machine shading.  
Any questions, please do not hesitate to call/text Danielle at (702) 200-2820 or danielle@microbladers.com  or visit us at https://microbladers.com/microblading-training/microblading-microshading-training-2-day/
Each Student Will Get:
Microblading + Shading Professional Training Kit  (includes manual hand tools + PMU machine) 
Artist Training Manual  
Theory Review 
Framing & Brow Mapping
Student Procedure Simulation   
Color Theory (what pigments to choose for different undertones) 
Practical Application and Preparation
Techniques & Methods 
Safety and Sanitization
Client Consultation and Consent Forms
Aftercare Instructions
Student Assisted Live Demonstration by MicroBladers Founder & Master Artist
Depth and Stroke Practice using Synthetic Skin 
Certificate of Completion - Microblading
Certificate of Completion - Machine Shading 
90-Days of Unlimited Support 
On-going and unlimited support is offered to all of my students, not only whilst you are taking your course but after. Learning is not just about one or two days, but will continue throughout your career. Therefore, it is important that each student always has the ability to access their mentor when need be. MicroBladers offers a 6-month apprenticeship course. To learn more, visit https://microbladers.com/microblading-training/microblading-training-apprenticeship/